Cruise Destinations
Read here more information on various cruise destinations around the world.
For your discounted Passport and Visa services be sure to enter our account number 45541 in the box on the upper right side of the first screen. This will help save you some money.

Certifications: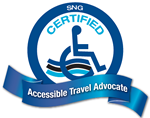 Avalon Waterways - Specialist
Azamara Club Cruises - Five Star Agent
Bermuda Board of Tourism - Bermuda Specialist
Carnival - Bachelors of Fun
Cayman Islands - Dive & Nature Master Specialist
Cayman Islands - Master Specialist Family Travel
Celebrity - Five Star Agent
Costa - Training Academy Graduate
Cunard - Commodore
InnerSea Discoveries - Adventurist
Norwegian Cruise Line - Freestyle Certified
Oceania Cruise Specilist
Princess - Commodore
Regent Seven Seas Univerity Graduate
Saint Lucia Specialist Graduate
SNG Certified Accessible Travel Advocate TM
North American Destinations
Belize
Located in Central America, Belize offers visitors a Tropical Rain Forest as well as incredible Caribbean waters for snorkeling and scuba diving. Belize is an infrequent cruise ship destination serviced on Western Caribbean itineraries. The waters around Belize City are shallow which makes for great snorkeling which is most often done from nearby islands. Many tour operators offer excursions.
This is a great one day destination. The economy is highly dependent on tourism thus when ships dock everyone is there to greet the tourists. Using a reputable tour operator for the shore excursion is important. We can help assist with selection of tour operators who can be counted on to provide a good safe shore excursion.
Canada
North of the lower 48 and East of Alaska is Canada. Canada is a vast country that is often known for being cold in the Winter. It is also known for friendly folks in the provinces of the Northeast and West where most cruise ships visit. Vancouver on the West side of Canada is a very busy port for ships going on up to Alaska while the Northeastern Marine provinces are popular cruise destinations for East Coast cruises.
Canada is very similar to the USA in many ways. Thus for those nervous about sailing out of the country, Canada is a good first time foreign destination because English is one of the official languages and pretty much anywhere you go English is spoken.
Costa Rica
Costa Rica is found in Central America. This is a country that is most often visited on trans Panama Canal cruises. Most often cruises visit the Western (Pacific Coast) but there are also Caribbean beaches in Costa Rica. Costa Rica is full of natural beauty including rain forests.
Costa Rica tends to be more of a week long destination for most who want to go there. A cruise gives you an opportunity to see Costa Rica before going for an entire week. It is generally an active vacation for those who like to hike and sight see, so if you find yourself on a cruise stopping here enjoy a day checking out a possible future week long vacation spot.
Honduras
Honduras is home to land on the Central America mainland as well as islands well known to scuba divers. Most cruises stopping in Honduras stop at Roatan, the primary dive island in the country.
This is a very poor country with poverty ion both the mainland and islands. Tourism is primarily found on the island of Roatan. There are several land adventures available via several shore excursion operators in Roatan. Also, on the island are many opportunities to scuba dive, snorkel, and even visit with dolphins.
Mexico
Mexico is one of the all time favorite destinations for cruise ships. Ships visit ports on both coasts of Mexico. There is a wide variety of scenery and activities depending on the port. Some of the ports are primarily for cruise ships stops while others are purely cities on the coast with everything you would expect out of a big city.
There are also many historical sites within Mexico that are close enough to cruise ports that you can make a day trip out of the historical sites. Depending on the port there are plenty of water sports, hiking, cooking classes, and much more.
Panama
Home to one of the engineering marvels of the world and a canal that connects the Atlantic and Pacific Oceans. Panama is a land of beaches, islands, rain forests, and tons of natural beauty. The lake high in the mountains between the two coast is transited by tons of ships each day on their way from the Atlantic to Pacific or vice versa.
The USA built the canal and returned the canal zone to Panama in the late 1900s. With this Panama has continued to develop the zone, including its current expansion to allow more and larger ships to transit the canals.
Panama is host to many companies that operate around the world. Additionally, Panama offers a flag of convenience for many ships around the world allowing the ships to be registered in Panama. There are economic benefits to the ship owners to doing this.
Panama is a great place to visit and you can find cruises that both transit the canal as well as stop in Panama City on the Pacific side or Colon on the Caribbean side where you can enjoy a day of being a tourist. Don't skip the transit tours or if you can take a ship thru the canal that is even better. It's an awesome experience to transit the canal.
USA
The United States one of the most populous countries in the world has lots to offer those who visit here.
For more details visit the following pages:
Alaska - This is the Last Frontier in the USA.
Florida - Home to significant production of Citrus in the USA. It is a great place to visit as it's also home to Walt Disney World, Universal Studios, and many other tourist attractions.
Ft. Lauderdale - Cruise Central, it is the big cruise port especially during the Winter.
Galveston - Historic Oldest City in Texas
Houston - Fourth largest city in the USA home to the Energy Industry and some of the top medical facilities in the country. Houston is also the host to NASA's "Houston Center."
Miami - Host to little Havana and South Beach, a great place for a vacation.
New Orleans - Home to good live Jazz and the French Quarter.
Texas - The Lone Star state.
All Other Destinations
Africa
Africa is not a common cruise destination and few ships sail from Africa. River cruises on the Nile are probably among the most frequent cruises in Africa, although you will find Egypt, Morocco, Tunisia, and a few other countries from Africa on the cruise itineraries.
Antarctica
Antarctica is one of the hardest places to visit. It's an awesome destination with interesting animals to see as well as neat ice formations to see. Getting here though is quite difficult and typically requires a rough crossing from South America.
When going to Antarctica, usually you will sail from South America visiting ports in South America and on the Antarctic shelf. Visits to the ice pack are typically only by rubber raft and most often only from the smaller Explorer type cruise ships. Big cruise ships making their way down here are most often only cruising by the ice pack from a distance due to both the hull construction and size of the ship being above what is practical to get in closer.
Asia is a very populated part of the world filled with many very different cultures. This is a fantastic area to visit by cruise ship allowing you to soak in more than you would by visiting just a single country or city on a land tour. As Asia becomes a more popular cruise destination we are seeing more American cruise companies basing cruise ships there.
One of the great destinations. You will find that most of the population and many of the best sites are located around the coast of Australia. You can circle the continent on some cruises sailing thru the Pacific, Indian, and Southern Oceans all on one trip.
There is a lot to see in Australia and a cruise is a great way to get a taste of the country so you can then choose to go back and spend more time in the areas you liked.
Europe
The old world as many know it, Europe has many different cruise venues. There are the Northern ports which can be iced in during part of the year and then there is the Mediterranean which is a much milder climate and open to cruising year round. Depending on what you want to see there are plenty of sailings as currently Europe is among the most popular cruise destination in the world.
With so much to do Europe has something for everyone, it boils down to choosing a cruise that visits destinations you want to see. This is of course something a good travel agent such as ourselves can help you wade thru.
South America is full of great ports for both embarkation as well as ports of call. There is much to see and do here and a cruise is a great way to go about doing so. With lots of history, the Galapagos Islands, the beaches at Copacabana and much more, adding a South America cruise to your bucket list is a great idea.