For your discounted Passport and Visa services be sure to enter our account number 45541 in the box on the upper right side of the first screen. This will help save you some money.

Certifications: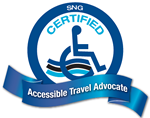 Avalon Waterways - Specialist
Azamara Club Cruises - Five Star Agent
Bermuda Board of Tourism - Bermuda Specialist
Carnival - Bachelors of Fun
Cayman Islands - Dive & Nature Master Specialist
Cayman Islands - Master Specialist Family Travel
Celebrity - Five Star Agent
Costa - Training Academy Graduate
Cunard - Commodore
InnerSea Discoveries - Adventurist
Norwegian Cruise Line - Freestyle Certified
Oceania Cruise Specilist
Princess - Commodore
Regent Seven Seas Univerity Graduate
Saint Lucia Specialist Graduate
SNG Certified Accessible Travel Advocate TM
What makes Regent Different

Regent Seven Seas Cruises, a Luxury Line
Regent Seven Seas prides itself on providing a very high level of guest services to the passengers. They also pride themselves on retention of crew who help deliver a consistently high level of personalized service to all guests. A low passenger to crew ratio helps deliver the kind of service expected on a luxury ship.
Attention to detail is part of what sets Regent apart from the mass cruise lines. Well appointed staterooms with all of the little touches are part of the attention to details. The ships are tastefully decorated to create a nice setting aboard for your cruise. With several lounges and places to dine you will find well appointed public spaces in addition to your well appointed staterooms.
Sailing Regent will leave you longing for more luxury cruises. With fewer fellow passengers, a high passenger space ratio, and luxurious service you are hard pressed to not enjoy yourself.
Regent as an all inclusive line
Many cruise lines claim to be all inclusive yet have a long list of non-inclusions. The list of inclusions for Regent is long. Of course you can always add on extras and opt for premium services, or premium bottles of wine, but with Regent there is no need to upgrade. (Unless you only like high end wine.)
One thing Regent includes that few other lines include in the base fare is shore excursions. You have the opportunity to choose from a number of excursions in each port already included in your fare. Of course at some destinations such as Alaska, there are excursions such as Flight Seeing, which are charged as premium excursions where you do have to pay some towards the cost, although much of the cost is already covered.
Regent operates 3 luxurious ships the Seven Seas Mariner , Seven Seas Navigator, and Seven Seas Voyager.
Where Regent Seven Seas Sails
Regent uses the entire world for sailing
Regent takes there luxury liners around to many different spots in the world sailing several sailing in each of various popular ports. They also tend to run segmented world sailings that offer a chance to experience the luxury level of service while enjoying new ports in new exotic destinations around the world.
Regent offers a few well appointed ships all designed to take you there in luxurious accommodations with a high level or personalized services.
Check out the current available sailings.