About the people behind our Agency
Get to know the crew that makes Brooks Cruise Services an excellent Cruise Travel Agency.
For your discounted Passport and Visa services be sure to enter our account number 45541 in the box on the upper right side of the first screen. This will help save you some money.

Certifications: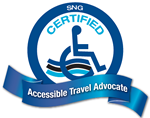 Avalon Waterways - Specialist
Azamara Club Cruises - Five Star Agent
Bermuda Board of Tourism - Bermuda Specialist
Carnival - Bachelors of Fun
Cayman Islands - Dive & Nature Master Specialist
Cayman Islands - Master Specialist Family Travel
Celebrity - Five Star Agent
Costa - Training Academy Graduate
Cunard - Commodore
InnerSea Discoveries - Adventurist
Norwegian Cruise Line - Freestyle Certified
Oceania Cruise Specilist
Princess - Commodore
Regent Seven Seas Univerity Graduate
Saint Lucia Specialist Graduate
SNG Certified Accessible Travel Advocate TM
About Us
Why We Sell Travel:
Selling travel is a competitive market. A such it is important to be passionate about the work. This is not a simple 9-5 gig where folks just show up to put in the hours only. It is important to be available to help your clients at all hours which is something we enjoy. It allows us to do things at different times of the day ourselves which can be nice.
We enjoy meeting new people and talking travel so combine that with a strong desire to travel and also a strong desire to have happy clients, selling travel is a natural fit. Couple the passion and personal travel experience with training on destinations and by travel suppliers it provides us with the strong background needed to take care of providing client travel planning for great travel experiences.
Specializing in Cruise:
One of our favorite vacations is on cruise ships. We carry this passion over to what we sell. Most people agree when you are having fun with your job you can do a better job. As such since we love cruising and talking about/planning cruises it is easier to do a great job for clients with cruising and helping sell select destination packages as well (to our favorite destinations).
Team Bio:
(David - President):

David is an avid traveler who has been involved in selling travel to others for many years. Having traveled to six continents and many countries around the world he has a wealth of personal knowledge of various destinations. Having cruised many times to various parts of the world he can guide you in your choice of what ships and cruises are best suited to your desired experience.

(Darlene - Family Travel Expert):

As a mother and wife Darlene knows what kinds of travel are appropriate for and work well with families.

(Tori - Kid Travel Expert):

Tori being a kid herself and one who has circled the globe, literally, knows a lot about travel. She is wise beyond her years both in terms of travel knowledge as well as academic knowledge. She can help you with advice about kids activities while cruising or visiting destinations.