Sales
These are the king of the cruise specials. Here you save on your cruise fare. If you are lucky,you may also get additional perks with the booking atop the lower cruise fares from the sale.
For your discounted Passport and Visa services be sure to enter our account number 45541 in the box on the upper right side of the first screen. This will help save you some money.

Certifications: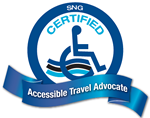 Avalon Waterways - Specialist
Azamara Club Cruises - Five Star Agent
Bermuda Board of Tourism - Bermuda Specialist
Carnival - Bachelors of Fun
Cayman Islands - Dive & Nature Master Specialist
Cayman Islands - Master Specialist Family Travel
Celebrity - Five Star Agent
Costa - Training Academy Graduate
Cunard - Commodore
InnerSea Discoveries - Adventurist
Norwegian Cruise Line - Freestyle Certified
Oceania Cruise Specilist
Princess - Commodore
Regent Seven Seas Univerity Graduate
Saint Lucia Specialist Graduate
SNG Certified Accessible Travel Advocate TM
All about Sale Fares
Information about cruise fare sales
Sales fares come in all shapes and sizes. Some cruise lines use specific eligibility criteria such as being a senior (age 55+) or the resident of a specific state. Other sales are for everyone. One other version of the sale is restricted to past passengers of the specific line.
Some specials are as good of a deal as 2 for 1 cruise fares on most cabins aboard the ship. Others may be limited to select cabin categories based on inventory levels. Across the board sales Regardless if you are eligible it is often a good idea to take advantage of a cruise fare sale when they come along.
Sale fares can range from small discounts to larger discounts (as measured on a percentage of the normal fee). A lot will depend on how full the ship is at the time of the sale. There is usually no simple way on line or by calling the line to get an accurate picture of how full the ship is at any given time.
Current Cruise Sale Fares
Click on each link below for more details on each special.
Keep checking back as new specials will be posted as they open for sale. October being National Cruise Month will bring some good specials.
Norwegian Cruise Lines Sale Oct 14-21.