For your discounted Passport and Visa services be sure to enter our account number 45541 in the box on the upper right side of the first screen. This will help save you some money.

Certifications: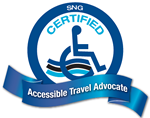 Avalon Waterways - Specialist
Azamara Club Cruises - Five Star Agent
Bermuda Board of Tourism - Bermuda Specialist
Carnival - Bachelors of Fun
Cayman Islands - Dive & Nature Master Specialist
Cayman Islands - Master Specialist Family Travel
Celebrity - Five Star Agent
Costa - Training Academy Graduate
Cunard - Commodore
InnerSea Discoveries - Adventurist
Norwegian Cruise Line - Freestyle Certified
Oceania Cruise Specilist
Princess - Commodore
Regent Seven Seas Univerity Graduate
Saint Lucia Specialist Graduate
SNG Certified Accessible Travel Advocate TM
Allure of the Seas July 2011
Houston to Allure Cruise via Universal Studios and back to Houston
Traveling to Port Everglades:
We departed on Wednesday with a planned stop in Tallahassee, Florida for a night of rest. This allowed us to get into Orlando in the early afternoon so we could really enjoy our time at the Lowes Portofino Bay Hotel n arrival day. We knew the next two days would be full of in park activities culminating with a drive on to Ft. Lauderdale.
Day 1 Sunday Departure from Ft. Lauderdale (Port Everglades):
We woke up a bit later and more rested than the prior couple of days. Excitement existed though as we got psyched up ready to head to the port parking and over to board the ship. Down for breakfast at the hotel lobby, which met our needs although it was not as nice though as we have seen in many other Hampton Inns although the staff was very friendly. We departed and took a short drive to the cruise parking lot (Park n Go who offers discounts on-line). We were quickly moved from right at the back of our car to the port, which was not too busy at that moment. We quickly got thru security and check-in after which we were directed upstairs where we waited for them to call our group to begin boarding. The first difficulty came when we were "dinging" onto the ship, apparently they were training folks who didn't know how to do it correctly which messed up our cards, took a ton of time while in other lanes 100+ were shuffled right on thru, so later when we went to the cabin we could not access the cabin thus having to spend 30 minutes getting new cards from guest services. A group of us had set a time to meet and we all got together which allowed the kids from within the group to meet one another. This worked well as some of the kids are now spending time at various activities around the ship together. Unfortunately, foul weather (a nasty thunderstorm) cut out our planned Oceania Aqua Show from the schedule. It was automatically rescheduled though, for a couple days later so we will get to see it and it did not take any effort on our part to get the new tickets.
Day 2 Monday (Day at Sea):
We work up early and went to the Dreamworks Character Breakfast that we booked after we confirmed out cabin was paid in full. It's definitely worth booking your shows and special events like this before arriving on the ship. The special breakfast was a blast. The characters are very gracious about pictures and the like. The food is good and comes from a special menu just for the special meal. After breakfast back to the sports deck. I needed to get a new bracelet that will allow me to surf on the flowrider and I also wanted to ride the zip-line a couple more times. I first tried it out soon after we dropped our stuff in our cabin on the first day. My daughter after much convincing also went for a zip. She was not as impressed but generally all that took the zip were really excited with the ride. Anyone between 75-275lbs can ride the zip. We've eaten at a few different venues around the ship and so far the food is good. We still have a bunch of ship and food venue exploring yet to complete.
Day 3 Tuesday (Labadee, Haiti):
Today was our beach day. We enjoyed the private beach leased by Royal Caribbean for exclusive use of Royal Caribbean and Celebrity passengers. This was also a special offloading site for supplies donated by both RCCL and others brought to Haiti via RCCL and Celebrity ships to help with relief efforts after the big earth quake in 2010. The sun was bright so on arival back to the ship my glow lit the room, oops...I should have put on more sun block. My hint of the day is to definitely wear lots of high value SPF sun block in the Caribbean, especially in "Spring, Summer, and Fall" when the sun will really do damage to your skin. We enjoyed exploring this new ship for some of the afternoon, then spent time watching one of the Aqua-shows which was absolutely fantastic. It was one of three shows that evening, which is a huge work out for the actors on this show. After the last show the theater went into repair mode to upgrade some aspects of the systems which on Oasis showed premature signs of wear from use on a ship. It is my understanding the repairs will be done in time for the next shows to take place at the end of the next cruise.
Day 4 Wednesday (Falmouth, Jamaica):
Today was a bright sunny day. We decided to see how much of the ship we could see and enjoy today while others went ashore. Having been to Jamaica several times in the past couple years it is not one of the ports where I have to go ashore. Despite hearing from others about the venues being very much open while in port we found they actually were open but with very limited hours. So if you want to spend tons of time on the climbing wall, zip line, or flow rider you may be a bit disappointed at the amount of open time. That said, the climbing wall and zip line were pretty much available with very short or no waits because of the thru-put whereas the flow riders tended to still have significant lines especially because some of the kids go ride after ride after ride taking much of the availble times for their own use. We went to three separate trivia events during the afternoon. It was quite a bit of fun. We will likley do the morning session tomorrow. There was good attendance at the three events which made for a good time for all participants. The day culminated with a nice dinner and some time visiting different venues around the ship. We even had time to attend the returning guests event where we got to chat with the cruise director & captain. At dinner we were treated to a special serving of a new dumpling the chef was having tasted by some of the early arrivals in the dining room & one of our favorites, escargo.
Day 5 Thursday (Day at Sea):
Today is a nice relaxing day with tons of activities to do. My daughter went into the pool with a friend she made aboard the ship. We watched 3D movies from Dream Works, played more trivia, and overall had fun while relaxing. Tonight after a visit to the Diamond Lounge (Allure is one of 5 ships with a dedicated Diamond member lounge on the ship which provides service equivelant to the concierge lounge to those Crown and Anchor members who are Diamond or above), we ate cooked to order pizza from Sorento's for dinner followed up with cookies and brownies from Cafe Promenade. We then enjoyed the evening Headliner show which was really quite good. Then off to bed to rest up for another great day enjoying the ship.
Day 6 Friday (Cozumel, Mexico):
Today we got going a bit earlier than the past couple. We ate in the Diamond lounge and then swapped out clothes for a swim suit so I could get some bogie board time. It is a lot of fun and also challenging. I look forward to my daughter sharing the video she took of me on the board. After the surf we swapped back into dry clothes so I could ride the zip line a few more times. It was not very busy so I got to ride several times in a row. The rock wall was not yet open so we have to wait and go climb it later in the day. We ended our day by watching the incredible very active show "Blue Planet" around which the entire theater was built. This is according to the performers one of the worlds best stages for performing given all the technology built in.
Day 7 Saturday (Day at Sea):
Today is a nice sunny day outside. We got up and had a leisurely start to the day. We started our activities for the day with a climb up the rock wall followed by the towel folding demonstration. We next picked the photos we wanted to bring home from the ship's photo gallery. As the day progressed we watched the presentation on RCCL's committment to the environment, participated in a video scavenger hunt (our team with the two of us and a couple of ladies from Toronto) where we had a lot of fun and won. We then went for a late lunch. In between all those activities we even squeezed in a back stage tour of the main theater. As the afternoon progressed we went to Ice Games the skating show on the ship. What a great show that was. After the show was over we took a break and reviewed what other activities we want to be sure we do before the cruise is all over. It is amazing how quickly the week comes to an end, especially when you are at nearly 5pm on the final day. The end off cruise entertainment staff parade in the Promenade was incredible. There are nearly 80 entertainers on the ship who all work hard to deliver top shows. They come from around the world and some are competitive in their sports and have to take time off on occasion to compete in the Olympics and other similar venues. It is an amazing group of entertainers. Now as the day draws to a close we review in our minds the past week, what we really liked and what we didn't. In the overall scheme of the trip, I will gladly sail both RCCL and the Allure of the Seas once again.
Disembarkation Day Sunday:
We just returned from a great week at sea and now get to drive 1200 miles home. Driving worked best given the variety of things we were going to do while on vacation etc...
Return to Houston:
This is both an exciting and sad moment. We are glad to get home and see mom/my wife. We are sad that a great daddy - daughter vacation has come to a close.
Additional Info on this Cruise