For your discounted Passport and Visa services be sure to enter our account number 45541 in the box on the upper right side of the first screen. This will help save you some money.

Certifications: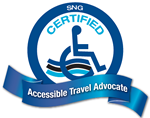 Avalon Waterways - Specialist
Azamara Club Cruises - Five Star Agent
Bermuda Board of Tourism - Bermuda Specialist
Carnival - Bachelors of Fun
Cayman Islands - Dive & Nature Master Specialist
Cayman Islands - Master Specialist Family Travel
Celebrity - Five Star Agent
Costa - Training Academy Graduate
Cunard - Commodore
InnerSea Discoveries - Adventurist
Norwegian Cruise Line - Freestyle Certified
Oceania Cruise Specilist
Princess - Commodore
Regent Seven Seas Univerity Graduate
Saint Lucia Specialist Graduate
SNG Certified Accessible Travel Advocate TM
Our Cruise Reviews
About Our Cruise Reviews
These cruise reviews are based on our own personal review of each ship and itinerary after having sailed on the ship as a full paying passenger. The reviews usually indicate who is traveling from the family. It can range from David alone to the full immediate and some extended family all on the same cruise.
We have not gone back to provide reviews of past cruises, and only started the reviews in the past year so we don't have nearly as many reviews listed as we have been on cruises. Collectively we have cruises multiple cruise lines and many different destinations around the world.
One thing you will find on the review page is a copy (in a pdf file) of the most relevant daily literature from the ship which gives an idea of what daily activities are available on any given cruise. It is accurate for my cruise, but could change for your cruise to the same destination for several reasons such as season, different cruise director in charge of the activities, weather, etc... so it is just a guide.
Read the reviews to get a flavor of the experience as each person will have their own unique experience. Some things we have been able to do are related to donations to Make A Wish Foundation or because we are frequent cruisers. We try to give a flavor of what the cruise we were on is like and hope it will inspire you to feel what your cruise can be like as well.
List of our Reviews
Pictures of this cruise on Pinterest
The Daily planners and other flyers from the ship.
The Daily planners and other flyers from the ship.
We did not write reviews for many of our early cruises but have experience with short and long cruises alike in various parts of the world. Eventually Tori will add reviews from a kid's perspective. We will also continue adding reviews as we take more cruises.