For your discounted Passport and Visa services be sure to enter our account number 45541 in the box on the upper right side of the first screen. This will help save you some money.

Certifications: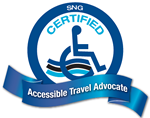 Avalon Waterways - Specialist
Azamara Club Cruises - Five Star Agent
Bermuda Board of Tourism - Bermuda Specialist
Carnival - Bachelors of Fun
Cayman Islands - Dive & Nature Master Specialist
Cayman Islands - Master Specialist Family Travel
Celebrity - Five Star Agent
Costa - Training Academy Graduate
Cunard - Commodore
InnerSea Discoveries - Adventurist
Norwegian Cruise Line - Freestyle Certified
Oceania Cruise Specilist
Princess - Commodore
Regent Seven Seas Univerity Graduate
Saint Lucia Specialist Graduate
SNG Certified Accessible Travel Advocate TM
Avalon Waterways

A Globus Family Cruise Line
Avalon Waterways is part of the Globus family of companies. This company has a ton of experience in tours thru Europe and other parts of the world. With this experience they are able to offer great included shore excursions at the stops along the river. One reason folks take river cruises is to be in ports quite a bit of their time on vacation. While in port most folks want to see historical and other special sights at each stop. Globus family companies have the experience and buying power to make that all happen.
On board Avalon Waterways offers a great experience comparable to luxury service on an ocean cruise. Keeping in mind that these are river boats and logistics of boat size restrict some features, you will be happy to see a well appointed boat to ensure your comfort while on the river. Of course these boats offer many opportunities for viewing on the side of the boat you are sitting/standing in, or in some lounges even great views in all directions.
The crew are adept at providing great customer service making your stay aboard enjoyable. They are knowledgeable about the areas they sail and can offer you pointers about what not to miss. They will work hard to make your wishes come true while on vacation with them.
See a video that helps showcase Avalon.
Where Avalon Sails
Sail some of the World's Top Rivers
You can sail Asia, Europe, Egypt, and The Galapagos (not on a river boat but on a small ship). In Asia, you can visit the Mekong, and Yangtze rivers. The Yangtze takes you thru Ancient China while the Mekong thru parts of Southeast Asia. Both offer many unique experiences and could easily be combined for an extended vacation to Asia, which after a long flight from the USA is a great option for those with the available time.
In Europe, see all of the following rivers: Danube; Rhine; Main; Moselle; Seine; and Rhone rivers. These rivers take you thru different parts of the old world and like in Asia can easily be combined for back to back cruises offering an even deeper insight to the cities and culture of the "Old World" that makes these cruises such an exciting opportunity.
In Egypt, you can see sights along the River Nile. Visit Cairo, the Pyramids, and many other sights along the river. It is a great way to take in many sights in Egypt while having at your service knowledgeable guides.
In The Galapagos you will board a small ship for a unique experience seeing the various islands. The ship is supported by well educated naturalists who can help you understand what Darwin found many years ago.