Services we provide
Below you can get a better feel for hour our Cruise Travel Agency can service your travel planning needs.
For your discounted Passport and Visa services be sure to enter our account number 45541 in the box on the upper right side of the first screen. This will help save you some money.

Certifications: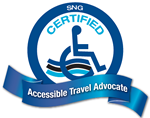 Avalon Waterways - Specialist
Azamara Club Cruises - Five Star Agent
Bermuda Board of Tourism - Bermuda Specialist
Carnival - Bachelors of Fun
Cayman Islands - Dive & Nature Master Specialist
Cayman Islands - Master Specialist Family Travel
Celebrity - Five Star Agent
Costa - Training Academy Graduate
Cunard - Commodore
InnerSea Discoveries - Adventurist
Norwegian Cruise Line - Freestyle Certified
Oceania Cruise Specilist
Princess - Commodore
Regent Seven Seas Univerity Graduate
Saint Lucia Specialist Graduate
SNG Certified Accessible Travel Advocate TM
Our Services
Cruise Vacation Planning
The most critical aspect of any cruise vacation is planning. Picking the right cruise for the right reasons will make a big difference in how the cruise vacation flows and feels to the guests. Part of what makes a Cruise Specialist/Travel Agent useful is that we can use our knowledge of the cruise lines (both from formal training as well as personal cruise experiences) to help you choose the best cruise based on what you want out of your vacation.
If you want to enjoy an activity filled vacation it's far a different ship to pick than those who prefer a serene vacation where they have few fellow guests and luxurious service and surroundings. Based on conversations with our clients, about what you like and don't like, who is traveling with you, and what you want to see we can easily help you pick the best destination(s) and cruise to get there. From that point we will expertly select for your approval ships (including specific categories of cabins), pre/post cruise accommodations, air, travel insurance and all other aspects of the cruise vacation that together make it a great vacation.
In addition to helping you pick you cruise, we have expertise and knowledge that can go a long way towards picking vacation packages which often are added to the front end or back end of a cruise vacation, especially those which depart Florida.
To get a quote for a cruise call us at 713-429-1487 or complete our Quote Request form, print and then email or fax it to us at 281-946-5113.
Pre and Post Cruise Hotel Accommodations
Many folks spend a bunch of time picking the perfect cruise, but forget to think about those pre and post cruise hotel stays. A pre-cruise stay is critical in just about every port to ensure you don't miss the cruise due to delayed or cancelled flights.
Often you can include these accommodations with your cruise purchase, however we have access to incredible buying power to get the same or better rooms usually at a lower cost than the cruise line. Thus, it is always a good idea at a minimum to check and see if we can secure a better hotel room for you at a better rate.
We are also able in many ports to use your preferences about hotel brands or location into account which is not something the cruise lines do when you choose the hotel thru the cruise line. This is one reason it's best to discuss all of these needs with us so we can help ensure you get the best overall vacation experience.
Cruise Vacation Shore Excursions
We can both offer advice about various and help you book shore excursions by providers other than the ship. Often these vendors offer the same tour for less money. The ones we recommend also have policies similar to the ship, if your ship is forced to miss the port you don't lose any money.
The one vendor our tour we love most is able to help with shore excursions all over the world.