For your discounted Passport and Visa services be sure to enter our account number 45541 in the box on the upper right side of the first screen. This will help save you some money.

Certifications: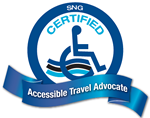 Avalon Waterways - Specialist
Azamara Club Cruises - Five Star Agent
Bermuda Board of Tourism - Bermuda Specialist
Carnival - Bachelors of Fun
Cayman Islands - Dive & Nature Master Specialist
Cayman Islands - Master Specialist Family Travel
Celebrity - Five Star Agent
Costa - Training Academy Graduate
Cunard - Commodore
InnerSea Discoveries - Adventurist
Norwegian Cruise Line - Freestyle Certified
Oceania Cruise Specilist
Princess - Commodore
Regent Seven Seas Univerity Graduate
Saint Lucia Specialist Graduate
SNG Certified Accessible Travel Advocate TM
Disney Cruise Lines

Disney Magic at work on the high seas
Disney Cruise Line is all about delivering the Walt Disney magic while at sea.It is one of the few cruise lines with no casino. Disney also tends to offer some of the larger staterooms of the mass market line ships. Many of their cabins can fit a family of four while some can fit more.
If you like going to Disney Land or Walt Disney World, you will likely really enjoy sailing on a Disney Cruise Line Ship. Like at these two land based destinations there is something for every kid of all age. The Disney Characters are there to wow you with their dance moves and entertain the kids.
There are many kids only activities at the kids club. Additionally, Disney thinks of the entire family with many entertainment shows and activities designed for full family interaction. Disney even has it's own island in the Bahamas where the ship stops on many cruises to offer a day of fun with Disney Flair at the beach in the Bahamas.
Who are these lines?
Disney Cruise Line Sails to many ports
Disney sails Alaskan waters along with the Caribbean and Mediterranean. With four ships sailing and under construction Disney will have a larger fleet than only a couple years ago allowing them to take the Disney Experience beyond the few cruise options available to the Bahamas and the Caribbean.
No matter what cruise you choose, it's Disney with all the Disney entertainment experience you expect out of Disney.
Call us at 713-429-1487 to book your Disney Cruise Line Vacation. We can also add on Disney Park vacations at any of the Disney properties world wide.