For your discounted Passport and Visa services be sure to enter our account number 45541 in the box on the upper right side of the first screen. This will help save you some money.

Certifications: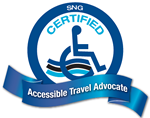 Avalon Waterways - Specialist
Azamara Club Cruises - Five Star Agent
Bermuda Board of Tourism - Bermuda Specialist
Carnival - Bachelors of Fun
Cayman Islands - Dive & Nature Master Specialist
Cayman Islands - Master Specialist Family Travel
Celebrity - Five Star Agent
Costa - Training Academy Graduate
Cunard - Commodore
InnerSea Discoveries - Adventurist
Norwegian Cruise Line - Freestyle Certified
Oceania Cruise Specilist
Princess - Commodore
Regent Seven Seas Univerity Graduate
Saint Lucia Specialist Graduate
SNG Certified Accessible Travel Advocate TM
About River Cruise Lines
River Cruise Lines are not the same as Ocean Cruise Lines
River Cruises are very different from Ocean cruises. To start with you will only have a small number of fellow cruisers with you. Even compared to the ultra luxury cruise lines the number of passengers is smaller than just about all but a few of the ultra luxury cruise lines.
The ships are actually boats. (Ships go to sea while boats are found on rivers.) These boats are long, narrow, and not very tall. This isn't to keep you from getting a good view but is all about being able to pass under bridges which in some cases are centuries old on some rivers in Europe. You may find taller ships sailing the Nile or in Asia where low lying bridges are less frequently encountered, at least on the cruise routes.
You will find yourself docking in the center of town more often than not, as opposed to away from most port's town/city centers. Many big cities are built on rivers and near to coasts but seldom is downtown on the coast. (Some exceptions exist such as Hong Kong and Singapore in particular.) This allows for more time seeing the city. Often someone from the crew will even offer guided tours of the cities. Even without the tours often you will get a lot of time to visit the city while "docked." You may even get lucky and participate in a chef's tour to a market with a talk about the local foods.
Many of these cruises offer gourmet meals and include wine and sometimes other alcohol with meals. They all handle meals a bit differently from one another, but know it's not like the giant cattle call you find on many of the big cruise ships. There are typically no specialty dining venues but because the crew is there to keep guests happy, they do tend to bend over backwards to create meals pleasing to all. They will with advance notice prepare meals for special diets. (Advance notice is necessary to ensure all appropriate ingredients are catered aboard for the cruise.)
The ships offer nice cabins, typically almost all with windows to see the shores as you sail the river. There are public gathering spaces where you can interact with fellow guests and watch the scenery.
Who cruises the great Rivers?
European River Cruise Lines (Including Russia)
Asian River Cruise Lines
PanDaw Cruises
Nile River Cruise Lines