Luxury Specials
The Luxury Cruise lines typically offer specials to those who book right after new cruises are posted for sale & shortly before the cruise departs in an effort to fill the ship to 100% occupancy.
For your discounted Passport and Visa services be sure to enter our account number 45541 in the box on the upper right side of the first screen. This will help save you some money.

Certifications: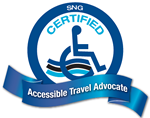 Avalon Waterways - Specialist
Azamara Club Cruises - Five Star Agent
Bermuda Board of Tourism - Bermuda Specialist
Carnival - Bachelors of Fun
Cayman Islands - Dive & Nature Master Specialist
Cayman Islands - Master Specialist Family Travel
Celebrity - Five Star Agent
Costa - Training Academy Graduate
Cunard - Commodore
InnerSea Discoveries - Adventurist
Norwegian Cruise Line - Freestyle Certified
Oceania Cruise Specilist
Princess - Commodore
Regent Seven Seas Univerity Graduate
Saint Lucia Specialist Graduate
SNG Certified Accessible Travel Advocate TM
About Luxury Cruise Specials
What makes a Luxury Line Special such a good deal?
Luxury Cruise Lines offer sales just like other lines. Often, the specials can save a large portion of the cruise fare and earn extra benefits while aboard the ship. Of course depending on the luxury line most things are already included so when you begin to compare the sales prices with costs for other non luxury lines on similar sailings, using suites in the non luxury lines it's possible to find great deals making the luxury sailing more economical than the other line sailing.
Because luxury cruise lines are a step above other lines in service, food, amenities, and cabins, when you can get a good deal on one of the cruises it makes for a truly memorable cruise experience. Several of the luxury lines include what is extra on other cruise lines such as wine, champaign, mixed drinks, beer, specialty dining, shore excursions, and in some cases air and pre-cruise hotel stays.
Usually sales on the luxury lines are like on other lines and for new bookings only and not combinable with some or all other discounts or special offers.
Call us to book one of these specials today!
Current Luxury Cruise Specials
What line, when, and where can we go on these specials?
Check back often to see what specials we have added for your savings on your ultimate cruise experience.