For your discounted Passport and Visa services be sure to enter our account number 45541 in the box on the upper right side of the first screen. This will help save you some money.

Certifications: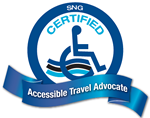 Avalon Waterways - Specialist
Azamara Club Cruises - Five Star Agent
Bermuda Board of Tourism - Bermuda Specialist
Carnival - Bachelors of Fun
Cayman Islands - Dive & Nature Master Specialist
Cayman Islands - Master Specialist Family Travel
Celebrity - Five Star Agent
Costa - Training Academy Graduate
Cunard - Commodore
InnerSea Discoveries - Adventurist
Norwegian Cruise Line - Freestyle Certified
Oceania Cruise Specilist
Princess - Commodore
Regent Seven Seas Univerity Graduate
Saint Lucia Specialist Graduate
SNG Certified Accessible Travel Advocate TM
Voyager of the Seas Christmas 2010
Galveston to Mexico, Cayman, and Jamaica:
I am sharing my personal experience on the 2nd Galveston sailing from the 2010-2011 season. I sailed in a Junior Suite on the Port Side of Deck 9.
Day 1 Sunday, Boarding Day:
We ended up getting there even earlier than I planned because getting thru the port etc…was exceptionally smooth. We were some of the earliest arrivals for the ship. In fact when they called us to board after a short wait for the stragglers from the prior cruise to get off the ship (note that Captain Bang was waiting to board some of his family as well and announced to everyone that it was in the hands of CBP to release the ship for boarding). We got on, headed to Windjammer for lunch…after eating off to our cabins we went. Great…our luggage, all of it, was waiting for us at our cabin doors. An hour later we emerged and headed to visit my parents in their cabin to find they too just finished putting away all of their clothes…so about 2:15 we were off to explore the ship and enjoy ourselves. Sail away was delayed a bit due to late arriving airplanes. Not a big deal…we conducted the standard Muster drill and got ready for the sail away. Everything went smoothly. This evening we had a birthday celebration for dad in Portifino which went well. When I walked up to confirm the reservation I was immediately recognized by staff from a few weeks before and when we later walked up for dinner greeted by name. The big surprise was when the captain's wife stopped by the table to say Happy Birthday to dad and hello to me…she got to meet the whole family. Then about ten minutes later the head waiter came over and whispered to me that my wife and I were asked to dine with the captain the next evening on the first formal night…always a great experience.
Day 2 Monday, single day at sea:
Our family likes to relax while at sea. That is what we did on this day…at least until it was dinner time. Then my parents and daughter went to the first night in my time dining while my wife and I met our group for dinner with the captain. What a great day!
Day 3 Tuesday, Cozumel, Mexico:
In Cozumel we did a bit of shopping, but first we went to the Salsa and Salsa tour, a combo of salsa making lessons and Salsa dancing lessons. I could care less about the dancing and honestly the rest of the family felt the same…we did make margarita and salsa eating and drinking along the way. (Next time I will probably end up doing the cooking course to see it as well.) The Salsa course was great…it is apparently a very new port tour there and was well received by the folks there that day. After the Salsa eating and margarita drinking we went shopping. We had a good time looking around before heading back to the ship. All while in nice Tropical Weather.
Day 4 Wednesday, Georgetown, Cayman Islands:
This is probably my favorite Caribbean cruise port. It is full of life, the folks there are friendly, banks abound, it's beautiful…it is a not to be missed port. In this port we spent the morning shopping and then headed out with Captain Marvin's boats to Stingray City, one of the most famous spots in Cayman for tourists to visit. At first my daughter was worried about the "slimy" feel of the rays but after a few passes was really excited about being there with them. We stopped for a second snorkeling spot on the way back into the dock…from the dock a nice ride back to the ship tender port…and a smooth ride back out to the ship. Again another beautiful Tropical day filled with fun for the family.
Day 5 Thursday, Montego Bay, Jamaica:
In Montego Bay my parents went on a tour while my wife, daughter, and I went shopping. In the end we picked up a nice gift for my daughter, something she told us the day before she really wanted for Christmas. Funny that in Cayman they claimed best prices around while in fact in Montego Bay we ended up with a better price both on her watch and the one I picked up for myself. Back to the crafts market by the ship and then back aboard to enjoy some quiet time on the ship. Many folks don't realize some of the best quiet time on a ship is while the ship is in port and everyone is scattered out and about on the town. Some ports are stronger draws for the cruisers than others so you may see more or less on the ship depending on the day. One more great Tropical Day.
Day 6 Friday, Christmas Eve:
Again, sea days are among our favorite. We enjoyed a laid back day waiting for the late night caroling in the Promenade on the ship. The caroling was a really great activity…as was earlier in the day watching the ice skating show. We also went to the comedy show that evening…kept going to keep awake for the 1130pm caroling.
Day 7 Saturday, Christmas Day:
Santa arrived in my parents cabin dumping tons of goodies into everyone's stocking. He came back to see all the kids on the ship around 9am…landing above the top deck, apparently up by the stack of chimney pipes. From there Santa went thru the Windjammer on down thru the Promenade to Studio B where elves checked off the good and bad kid list. I didn't see any names on the bad kid list fortunately…and then kids got to say howdy to Santa and were each given a gift. My daughter got a really nice fleece blanket. We opened presents as a family…most of our gifts did come with us on the ship except for some where size and weight did not allow for easy passage onto and off of the ship, so those were saved for home. We then lazed about for our last day aboard the ship. Today was a great day to watch the wave action as it was enhanced due to the passing cold front to the North of our location. The ship rocked ever so gently so it was a nice show…and I didn't see anyone acting sick as a result so that was even better. We had a nice lobster dinner in the main dining room at our my time dining experience as usual. Another great day aboard the ship…sadness hit as we said see you later to our wait staff (the head waiter is one I have had on board all four of my Voyager cruises)…then pack it all up and get the suitcases out for collection…off to bed and wake up back in Galveston.
Disembarkation Day Sunday (again):
This was a relatively smooth day. We did have a couple issues with the onboard spending account, which were ultimately resolved without too much drama…it is the first time in many cruises I had this problem and it stems from what I would call a new employee putting in the charges to the computer up in Johnny Rockets. We headed to the Diamond departure point and shortly after were called to hop on off the ship. It was a relatively quick process, the longest part was the 5 to maybe 10 minute wait to get thru CPB, but not bad at all. Seems the computers must have been down since the guy just looked at our passports, commented at how think my passport is (I said back that with all the pages I never get it stamped and before I was almost out of pages, he laughed). Off to the shuttle back to the cars and drive home, via Grandma's to pick up our miniature poodle.
Extra Info about this cruise