For your discounted Passport and Visa services be sure to enter our account number 45541 in the box on the upper right side of the first screen. This will help save you some money.

Certifications: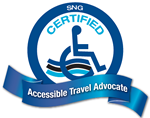 Avalon Waterways - Specialist
Azamara Club Cruises - Five Star Agent
Bermuda Board of Tourism - Bermuda Specialist
Carnival - Bachelors of Fun
Cayman Islands - Dive & Nature Master Specialist
Cayman Islands - Master Specialist Family Travel
Celebrity - Five Star Agent
Costa - Training Academy Graduate
Cunard - Commodore
InnerSea Discoveries - Adventurist
Norwegian Cruise Line - Freestyle Certified
Oceania Cruise Specilist
Princess - Commodore
Regent Seven Seas Univerity Graduate
Saint Lucia Specialist Graduate
SNG Certified Accessible Travel Advocate TM
Carnival Cruise Line

Carnival is among the large cruise lines
Carnival is an older cruise line that has brought cruising on their "Fun Ships" to the general population of the USA and Europe. Due to the success of the one cruise line, Carnival was able to grow into a parent company for many additional cruise lines offering various levels of guest service and different destination focus.
Carnival aims it's ships' appeal at the mass crowds of America. They are not out to cater to those who expect suite accommodations with luxury services. They aim to provide a fun experience for as many passengers as they can put on each ship. The decore is vibrant and colorful. The on ship amenities include water slides and sports courts.
Carnival does feature programs for younger kids allowing the adults to go off and enjoy the adult venues. There are plenty of bars on all of the Fun ships from which to choose.
Carnival offers many ships of different sizes sailing out of many home ports on various cruise lengths. On these ships there are plenty of dining venues from which to choose, including room service (with a limited room service menu).
Where does Carnival Sail?
Carnival Primarily Sails out of the USA and Europe
Carnival focuses cruises to the Caribbean, Alaska, and Europe. They have done a very good job sailing from many US home ports making it possible for much of the US population to drive to a nearby port for their cruise vacation.
To book a Carnival Cruise call us at 713-429-1487.