For your discounted Passport and Visa services be sure to enter our account number 45541 in the box on the upper right side of the first screen. This will help save you some money.

Certifications: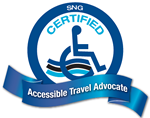 Avalon Waterways - Specialist
Azamara Club Cruises - Five Star Agent
Bermuda Board of Tourism - Bermuda Specialist
Carnival - Bachelors of Fun
Cayman Islands - Dive & Nature Master Specialist
Cayman Islands - Master Specialist Family Travel
Celebrity - Five Star Agent
Costa - Training Academy Graduate
Cunard - Commodore
InnerSea Discoveries - Adventurist
Norwegian Cruise Line - Freestyle Certified
Oceania Cruise Specilist
Princess - Commodore
Regent Seven Seas Univerity Graduate
Saint Lucia Specialist Graduate
SNG Certified Accessible Travel Advocate TM
The Paul Gauguin Difference

Paul Gauguin focused on The South Pacific
This is a very nice luxury cruise line with one ship and another on the way. Presently the one ship spends all its time in and around Tahiti. They deliver a luxury cruise experience where you use the ship as a platform for exploring the islands and water sports. Your ship is all about luxury accommodations while you're exploring the islands. Of course they don't skimp on providing 5 star cusine either.
Much of the crew comes from the islands so you are able to enjoy the warm island hospitality both aboard the ship and while ashore on the islands. This is part of the way that Paul Gauguin provides a first class experience.
The ship is set up to allow easy access to water sports and tenders to the islands. This allows for lots of up close and personal time with these beautiful islands that the ship calls home.
Where Paul Gauguin Sails
Tahiti and the South Pacific
Most sailings are heavily inclusive of Tahiti. Other sailings that go longer than a week begin to include other South Pacific regions as well.
When the new ship begins sailing it will offer the Paul Gauguin level of service and hospitality on sailings to many spots around the world.
Call us today at 713-429-1487 to book an incredible experience in the South Pacific aboard Paul Gauguin