For your discounted Passport and Visa services be sure to enter our account number 45541 in the box on the upper right side of the first screen. This will help save you some money.

Certifications: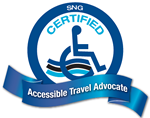 Avalon Waterways - Specialist
Azamara Club Cruises - Five Star Agent
Bermuda Board of Tourism - Bermuda Specialist
Carnival - Bachelors of Fun
Cayman Islands - Dive & Nature Master Specialist
Cayman Islands - Master Specialist Family Travel
Celebrity - Five Star Agent
Costa - Training Academy Graduate
Cunard - Commodore
InnerSea Discoveries - Adventurist
Norwegian Cruise Line - Freestyle Certified
Oceania Cruise Specilist
Princess - Commodore
Regent Seven Seas Univerity Graduate
Saint Lucia Specialist Graduate
SNG Certified Accessible Travel Advocate TM
Royal Caribbean Cruise Line

All About Royal Caribbean
Royal Caribbean is one of the largest cruise lines. It is the big sister in the Royal Caribbean family of cruise lines, which also owns Azamara and Celebrity both known to the US sailing crowds.
Royal Caribbean offers some of the largest and most innovative ships afloat. The Allure and Oasis are twins who both carry the status of the largest cruise ship afloat. They are a small city with tons of activities for everyone. This follows in a long line of ships built to please customers from all backgrounds.
Royal Caribbean sails on six continents with their ships. Asia will have two ships deployed there in mid 2012, while other ships will sail the Middle East, Europe, the Mediterranean, the Caribbean, Australia, and Alaska. With ships of all sizes, something for everyone to do, a high energy cruise and sports staff Royal Caribbean delivers an incredible product to the masses.
Royal Caribbean has very nice suites aboard and on most ship the exclusive Concierge Club for access by those sailing in Suites, and in the top two tiers of their Crown and Anchor Society. Suites on Royal Caribbean are a great way for a family to sail where you aren't atop each other the entire time. We've experiences suites on Royal Caribbean several times so can talk as experts from personal experience.
Recently the Radiance and Rhapsody were both upgraded. See the flyers for more info on the upgrades.
Call us directly at 713-429-1487 to discuss your next Royal Caribbean cruise and get it booked.
What Makes Royal Caribbean Different
The Royal Caribbean Difference
Royal Caribbean prides itself on delivering Gold Anchor Service to all guests regardless of cabins. Typically you will find happy cheerful crew who love to interact with you. Aside from happy helpful crew, the big difference is the sports facilities aboard the ship, with rock walls, zip lines, flow riders (for those who like to surf), ice skating rinks, and even boxing rings you will find many active sporting facilities aboard the ship. Royal Caribbean pioneered all of the aforementioned sporting activities.
Royal Caribbean tends to have the top past guest program of the mass market cruise lines. You can earn discount on and off the ship (towards your next sailing), recognition parties, at various levels even more on board recognition. At the highest three levels you will have a nightly reception or access to the concierge lounge where you can enjoy a private lounge with complimentary drinks.
Where does Royal Caribbean Sail?
You can sail Royal Caribbean all over the world. Ships are deployed seasonal and full time to the six continents where you expect to see cruise ships. Antarctica is the only place they do not make regular stops, but then again their ships are just too big for that market.