For your discounted Passport and Visa services be sure to enter our account number 45541 in the box on the upper right side of the first screen. This will help save you some money.

Certifications: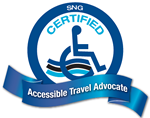 Avalon Waterways - Specialist
Azamara Club Cruises - Five Star Agent
Bermuda Board of Tourism - Bermuda Specialist
Carnival - Bachelors of Fun
Cayman Islands - Dive & Nature Master Specialist
Cayman Islands - Master Specialist Family Travel
Celebrity - Five Star Agent
Costa - Training Academy Graduate
Cunard - Commodore
InnerSea Discoveries - Adventurist
Norwegian Cruise Line - Freestyle Certified
Oceania Cruise Specilist
Princess - Commodore
Regent Seven Seas Univerity Graduate
Saint Lucia Specialist Graduate
SNG Certified Accessible Travel Advocate TM
Princess Cruises
Upscale part of the Carnival family of cruise lines
Princess is an upscale cruise line focused on delivering great service to the mass markets. You will find great kids clubs for the kids, but fewer family/kids ship activities such as water slides or rock walls that you may find on other cruise lines.
Princess offers both a high level of overall service and good quality food. You can have a nice breakfast served to you on your balcony if you like. That is of course one more reason to cruise in a balcony cabin of course.
Princess was the original Love Boat and has been in the cruise business for some time. Of course they had a lot of publicity from the ever famous tv series and have carried over the high level of service seen in the show to the cruises today. Just don't expect to dance the night away with crew, they keep busy taking care of the guests and don't have much time to dance the night away.
Princess offers a great past passenger program. For those who value contact with the outside world, work you way up the tiers of past passengers on Princess and you can get a bunch of internet time as a past guest. They also provide discounts for future cruises on occasion to past guests.
Where does Princess Sail?
Princess Sails the Entire Globe
Princess has ships sailing all over the world. Among the fleet are 3 what they call small ships that are dedicated to destinations where small ships are more appropriate. One such destination is the South Pacific.
Princess does round the world sailings and from those sailings you can take segments that last a shorter portion of the overall cruise.