For your discounted Passport and Visa services be sure to enter our account number 45541 in the box on the upper right side of the first screen. This will help save you some money.

Certifications: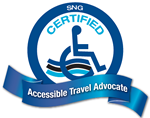 Avalon Waterways - Specialist
Azamara Club Cruises - Five Star Agent
Bermuda Board of Tourism - Bermuda Specialist
Carnival - Bachelors of Fun
Cayman Islands - Dive & Nature Master Specialist
Cayman Islands - Master Specialist Family Travel
Celebrity - Five Star Agent
Costa - Training Academy Graduate
Cunard - Commodore
InnerSea Discoveries - Adventurist
Norwegian Cruise Line - Freestyle Certified
Oceania Cruise Specilist
Princess - Commodore
Regent Seven Seas Univerity Graduate
Saint Lucia Specialist Graduate
SNG Certified Accessible Travel Advocate TM
Oceania Cruise Lines
Oceania Cruises, a True Luxury Cruise Line
Oceania Cruises focuses on providing guests with a luxury cruise experience all around the world. They provide a number of inclusions in the cruise fare including in many cases air from your home airport. You aren't asked to pay for all kinds of add on's like happens on so many cruises.
You will meet an fellow guests of various ages and different stages in life. Most are well educated and enjoy conversation with other guests on the ship. Of course there is always the option of just kicking back in your luxurious stateroom.
Read this flyer for a quick one page view of Oceania's Service.
Overview of the ships Marina and Riveria.
2012 Oceania Sailings Brochure
Where does Oceania Sail?
Oceania Cruises are found World Wide
Not only does Oceania offer some world cruises each year, they have several ships plying the waters where guests want to cruise. You can, depending on the time of year, find Oceania sailing in waters all over the world catering to their guests.
Call us at 713-429-1487 to discuss where you want to sail and we will help you pick the Oceania ship that meets your desires.
2012 Oceania Sailings Brochure