For your discounted Passport and Visa services be sure to enter our account number 45541 in the box on the upper right side of the first screen. This will help save you some money.

Certifications: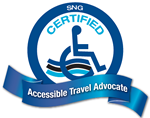 Avalon Waterways - Specialist
Azamara Club Cruises - Five Star Agent
Bermuda Board of Tourism - Bermuda Specialist
Carnival - Bachelors of Fun
Cayman Islands - Dive & Nature Master Specialist
Cayman Islands - Master Specialist Family Travel
Celebrity - Five Star Agent
Costa - Training Academy Graduate
Cunard - Commodore
InnerSea Discoveries - Adventurist
Norwegian Cruise Line - Freestyle Certified
Oceania Cruise Specilist
Princess - Commodore
Regent Seven Seas Univerity Graduate
Saint Lucia Specialist Graduate
SNG Certified Accessible Travel Advocate TM
Specialty Cruise Lines
What is a Specialty Cruise Line
Specialty cruise lines are ones that offer unique cruise experiences not found on traditional cruise lines. They can be different based on destinations, type of ship, on board activities, or something else. Many are liveaboard dive boats while others offer very specialized destination opportunities.

One example of a specialty ship destination is Antarctica. Another is the Galapagos. Both are served by smaller ships with special designs to ensure they can safely and environmentally friendly serve these destinations. Usually they carry a group of small rubber boats to get folks ashore to see the destinations.
Although big ships may cruise these destinations they seldom have the ability to actually get folks ashore to really see these destinations in all their glory.
Dive boats are found all over the world and are really a great way to go out and scuba dive. They get you to remote sites not visited by the masses and can stay at the best sites longer offering far more comforts while at sea than the average day dive boats.
Specialty Cruise Lines
Right now we are evaluating several specialty lines to offer only the best to our clients. At this point I like the liveaboard offered by Carins Dive Center in Queensland, Australia. They offer a nice stable dive boat (catamaran) which moves around to offer folks a great dive vacation. I've spent a week aboard it during my second time on the Great Barrier Reef, and had a blast.
Contact me at 713-429-1487 to discuss diving the Great Barrier Reef or other destinations. I know of other liveaboard boats that I am working with to offer to my clients.