For your discounted Passport and Visa services be sure to enter our account number 45541 in the box on the upper right side of the first screen. This will help save you some money.

Certifications: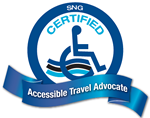 Avalon Waterways - Specialist
Azamara Club Cruises - Five Star Agent
Bermuda Board of Tourism - Bermuda Specialist
Carnival - Bachelors of Fun
Cayman Islands - Dive & Nature Master Specialist
Cayman Islands - Master Specialist Family Travel
Celebrity - Five Star Agent
Costa - Training Academy Graduate
Cunard - Commodore
InnerSea Discoveries - Adventurist
Norwegian Cruise Line - Freestyle Certified
Oceania Cruise Specilist
Princess - Commodore
Regent Seven Seas Univerity Graduate
Saint Lucia Specialist Graduate
SNG Certified Accessible Travel Advocate TM
Royal Caribbean Cruise Line
About Sea Dream Yacht Club
Sea Dream provides a private yachting experience that is quite different from a traditional cruise experience. With nearly one crew member for every guest you can be assured of luxurious service will be delivered to all guests aboard the ships. All of this on a ship that only carries 122 passengers.
Because the yacht is relatively small (about 350' in length or about 1/3-1/2 the length of the majority of the cruise ships out here) it is able to sail into ports not accessible to cruise ships. Taking a yachting getaway allows you to totally relax and enjoy yourself. The service is five star with crew anticipating your needs. The fine cusine is served as it would be on any private yacht on fine china for all meals accompanied by fresh juices and fine wine.
On the deck you can find sleeper recliners where you are welcome to sleep under the stars. They are arranged in convenient pairs separated by railings from other pairs, perfect for couples. The crew will even bring out blankets and ensure you are set up for your night under the stars.
An open bridge policy allows guests to learn more about the yacht's operation and get to know the crew. Coffee and pastry are available for passengers while the ship is sailing into port in the morning. This gives a platform for interaction between crew and guests.
While in port you have many water sports options available off the back deck of the yacht. All are included in your fare, so go enjoy a sail or a SeaDoo ride. Snorkel on pristine reefs or go to a remote beach and relax in the surf. Just don't miss the Champagne and Caviar event near the end of your time aboard the yacht.
As you can see below in the pictures and video this is a great way to see the smaller less frequently visited islands. Or another way of thinking about it, this is where you would go on your own personal yacht.
Call us directly at 713-429-1487 to discuss your next Sea Dream Yacht getaway.
What Makes Sea Dream Yacht Club Different?
The Sea Dream Yacht Club Difference
Instead of writing it all up, I wanted to show the difference via pictures. See below.



Where does Sea Dream Yacht Club Sail?
Depending on the season the Mediterranean and the Caribbean are the mainstay locations for the two ships. They also sail starting in 2012 nearly all the way up the Amazon, farther than most cruise ships can sail.
Regardless of the region know you are going to spots visited by few cruise ships and move at times when it is convenient for the passengers not just the cruise line. Thus expect to be asleep while a lot of the movement from port to port takes place and docked or anchored in great locations generally speaking while awake.
Here is a great Video Introduction to the Sea Dream brand.