For your discounted Passport and Visa services be sure to enter our account number 45541 in the box on the upper right side of the first screen. This will help save you some money.

Certifications: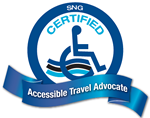 Avalon Waterways - Specialist
Azamara Club Cruises - Five Star Agent
Bermuda Board of Tourism - Bermuda Specialist
Carnival - Bachelors of Fun
Cayman Islands - Dive & Nature Master Specialist
Cayman Islands - Master Specialist Family Travel
Celebrity - Five Star Agent
Costa - Training Academy Graduate
Cunard - Commodore
InnerSea Discoveries - Adventurist
Norwegian Cruise Line - Freestyle Certified
Oceania Cruise Specilist
Princess - Commodore
Regent Seven Seas Univerity Graduate
Saint Lucia Specialist Graduate
SNG Certified Accessible Travel Advocate TM
Cruise Lines
Information about each cruise line
Click on the cruise line name to go to our page dedicated to that cruise line for even more details about the specific line. For more information about types of cruise lines click on the following links, Luxury, Mass Market, Specialty, and River Cruises.
Family owned and operated river cruise company. The entire family remains heavily involved in overseeing the daily operations of the line to ensure guests receive a great cruise experience. River Cruising is different from Ocean cruising offering a lot more focus on the various destinations transited on the cruise.
A luxury cruise experience into ports that are smaller and unique for cruising. They are a very small ship and specialize in smaller unique destinations.
Avalon provides a great river cruise experience. They operate on many of the worlds best cruising rivers.
Upscale cruise experience. Owned by the same folks who own Royal Caribbean and Celebrity. They sail great ships with a high level of service by the staff aboard.
Carnival is one of the largest lines with "Fun Ships" sailing from home ports all over the US to many different destinations. They offer affordable prices and a fun cruise experience.
Celebrity is an upscale cruise line. They offer a finer cruise experience than most of the other cruise lines in the mass market sector. The ships tend to offer nicer cabins and public areas. The ships tend to be more serene and have fewer children aboard.
Costa is an Italian line, owned by the same folks who own Carnival. Costa typically sails in Europe, however has some sailings to the Caribbean out of Florida each year. This line offers some incredible specials on these sailings, especially for families. I see Kids Sail Free often on Costa.
Cruising Costa will bring a very different cruise experience though. It is as I said an Italian cruise line with mostly Italian officers and the cooking is typically of Italian flair, which is not what most Americans may expect of Italian food.
One of the finest cruise experiences money can buy. Fine tuned service and nearly all inclusive makes this a great choice for those who want the finer things in life.
Upscale cruise line that offers excellent service to the guests and many high service, exclusive amenity and space options for those desiring a super high level of service on a larger ship with a mix of passengers.
Disney is the ultimate family cruise line. Disney is an expansion of the Disney product found inland (from the Florida home port Port Canaveral) out at sea. Disney knows how to entertain and does a great job of it on cruises as well.
Holland America is a refined line catering typically to an older crowd. The service is very good and the ships are nice. There are fewer activities for families which should be a consideration when booking their cruises. For someone who wants a get-away while being able to spend hours in their cabin working, this line may be a great choice. For those looking for a highly active cruise experience there are several other lines that offer more active cruises.
MSC (Mediterranean Shipping Company)
This is another European based cruise line. They aim to please the European market which may not be what the typical American guests want. They offer great cruises with good service and European style meals. MSC does sail to the Caribbean out of Florida and at times offers some good deals for US based passengers.
The Freestyle line offers many options for dining on their ships. They are a family cruise line that promises to let cruisers do things at their own pace. NCL sails from several US ports and has ships of all ages and sizes. They offer some of the best suites amenities for cruisers on mass market lines. They also offer some of the only dedicated single occupancy cabins in the US market.
Oceania provides a high level of services with cruises including more services and amenities than most lines. They sail smaller ships that help provide a more intimate atmosphere for the cruisers.
A small intimate ship primarily sailing Tahiti and around the South Pacific. The line offers many inclusions and a great pre/post cruise hotel package for those looking to extend their cruise on land as well.
P&O offers cruises in Great Britain and Australia. They aim their their product to the British and Australian markets.
Princess is one of the nicest mass market cruise lines. Princess offers very nice ships sailing great itineraries. Princess offers some of the few round the world cruises broken into several smaller segments. Princess has a great past passenger program rewarding past passengers with many special on board amenities and sometimes booking discounts. Princess sails from departures ports to destinations all over the world with an emphasis on Alaska, the Caribbean, the Mediterranean, and Oceania (with its small ship experience).
This is one of the small lines owned by Royal Caribbean Cruise Lines, the parent to Royal Caribbean International, Celebrity, and high end Azamara Club Cruises. This line is the place you will find the older ships from the Royal Caribbean and Celebrity fleets. The line is set up to cater to the European market.
One of the ultra luxury lines offering top notch service and great ships. You will not be inundated with too many other passengers getting off the ship at any port. Also, you will find many unique exciting itineraries with Regent sailings.
Royal Caribbean is one of our personal favorite lines. They have numerous awards for the product they provide to the cruising public. Many of the largest most innovative cruise ships are in the Royal Caribbean Fleet including both the Oasis and Allure of the Seas ships. Royal Caribbean also has a well regarded past passenger program offering discounts on some cabins for passengers who have sailed with the line previously.
Royal Caribbean offers a true family experience with something for everyone to do. The cruises are typically quite active, especially the 3 night long weekend cruises. With Rock Walls on every ship, ice skating rinks on 10 of the ships, specialty dining, carousels, and many other special activities available on Royal Caribbean fun for all family members is always near at hand.
An upscale cruise line. You will experience top notch service on smaller more intimate ships. This also allows the ship to get into smaller ports, miss the crowds and offer a unique cruise experience offered only by a few cruise ships.
A high end cruise experience where service is top notch. Unique sailings and destinations that allow you to have a different cruise experience than available on most other ships.
Star Cruises is a major line sailing in Asia. They own NCL and serve the US market via NCL. Star cruises provides a great product for the Asian market with frequent departures for short and long cruises within Asia.
One of the leading river cruise companies. They offer sailings in China, Egypt, all over Europe including Russia. You will have exceptional service and great food aboard the ships. You also will have numerous tours included on the cruise.