For your discounted Passport and Visa services be sure to enter our account number 45541 in the box on the upper right side of the first screen. This will help save you some money.

Certifications: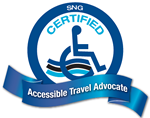 Avalon Waterways - Specialist
Azamara Club Cruises - Five Star Agent
Bermuda Board of Tourism - Bermuda Specialist
Carnival - Bachelors of Fun
Cayman Islands - Dive & Nature Master Specialist
Cayman Islands - Master Specialist Family Travel
Celebrity - Five Star Agent
Costa - Training Academy Graduate
Cunard - Commodore
InnerSea Discoveries - Adventurist
Norwegian Cruise Line - Freestyle Certified
Oceania Cruise Specilist
Princess - Commodore
Regent Seven Seas Univerity Graduate
Saint Lucia Specialist Graduate
SNG Certified Accessible Travel Advocate TM
Holland America Line

Holland America Line, part of the Carnival Family of Cruise Lines
Holland America is one of the upscale cruise lines in the Carnival family of cruise lines. They tend to attract an older crowd for their cruises which is something to know if you choose Holland America. They sail nicely appointed ships to destinations around the world.
Holland America tends to use somewhat smaller ships than other mass market lines. Thus they tend to have fewer passengers aboard as well. These are all factors important to know before you pick your cruise.
Where does Holland America Sail?
World Wide Cruises on Holland America
Holland America Cruise Line sails the entire globe. They do focus quite a bit on a seasonal basis in Alaska, the Caribbean, Mexico, Canada, Asia, Australia, the South Pacific, and New Zealand. They move ships around so there are many repositioning one way sailings from which to choose thru the year.
Holland America like other lines is constantly changing up the sailings to offer variety for the guests.
Call us directly at 713-429-1487 to discuss your Holland America Line cruise and to get it booked.