For your discounted Passport and Visa services be sure to enter our account number 45541 in the box on the upper right side of the first screen. This will help save you some money.

Certifications: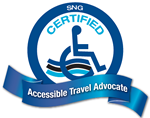 Avalon Waterways - Specialist
Azamara Club Cruises - Five Star Agent
Bermuda Board of Tourism - Bermuda Specialist
Carnival - Bachelors of Fun
Cayman Islands - Dive & Nature Master Specialist
Cayman Islands - Master Specialist Family Travel
Celebrity - Five Star Agent
Costa - Training Academy Graduate
Cunard - Commodore
InnerSea Discoveries - Adventurist
Norwegian Cruise Line - Freestyle Certified
Oceania Cruise Specilist
Princess - Commodore
Regent Seven Seas Univerity Graduate
Saint Lucia Specialist Graduate
SNG Certified Accessible Travel Advocate TM
Norwegian Cruise Line
Sail Like A Norwegian
The new branding has you consider sailing like a Norwegian. Nope, you don't have to board a viking ship and help row, although that would cut down on fuel costs.
NCL focuses on delivery of a good experience for families and younger adults. They work hard to provide everyone with a choice of activities geared to what they want to do. They have added more activities on newer ships to ensure there is something for everyone.
NCL introduces the Freestyle concept several years back. What this is all about is the option to do what you want when you want, not being stuck on a rigid schedule. For instance they provide several dining venues and you show up whenever you wish during the operating hours and have your meal, like you would at home, show up, get seated, dine, and go on your way.
NCL continues to offer some of the best suite services for suite guests of the mass market lines. Private butlers and many special amenities make their suites some of the most coveted among the mass market lines.
Lean more about NCL's family fun activities.
Where does Norwegian Cruise Line Sail?
NCL sails....
Norwegian Cruise Line tends to sail to Europe and the Caribbean. Thru one of their subsidiary companies, they have a corner on the intra-Hawaii market with the only big ship sailing wholly within Hawaii.
Like many lines the sailings alternate largely between the Caribbean and the Mediterranean depending on the season. This affords guests who prefer more sea days and longer cruises the opportunity to sail Trans-Atlantic sailings for all those sea days.