For your discounted Passport and Visa services be sure to enter our account number 45541 in the box on the upper right side of the first screen. This will help save you some money.

Certifications: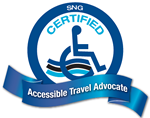 Avalon Waterways - Specialist
Azamara Club Cruises - Five Star Agent
Bermuda Board of Tourism - Bermuda Specialist
Carnival - Bachelors of Fun
Cayman Islands - Dive & Nature Master Specialist
Cayman Islands - Master Specialist Family Travel
Celebrity - Five Star Agent
Costa - Training Academy Graduate
Cunard - Commodore
InnerSea Discoveries - Adventurist
Norwegian Cruise Line - Freestyle Certified
Oceania Cruise Specilist
Princess - Commodore
Regent Seven Seas Univerity Graduate
Saint Lucia Specialist Graduate
SNG Certified Accessible Travel Advocate TM
Why Cunard?

Cunard a Traditional Old School Cruise Line
Did you realize Cunard has it's roots back when ships were contracted to take mail between Europe and the USA, more than a century ago. Cunard has a history of introducing innovations in cruising back before cruise ships were common place. Many of the introductions are found on every cruise ship today.
Cunard offers various levels of service on the same ship with the Grille categories for those staying in full suites. In these cabins you have access to special dining rooms and common areas just for guests in the respective Grille. Of course you have access to the remainder of the ship as well.
Cunard offers traditional white glove service aboard their ships. This tradition was started back before cruising was common place. In fact Cunard is an original cruise line. Cunard carried passengers between Europe and the USA for a long time before cruises were commonplace. Cunard today still offers Trans-Atlantic sailings and often brings those who are afraid to fly across the Atlantic. Cunard even allows pets to sail in kennels on the ship.
Where Cunard Sails
Cunard Sails the entire world
Cunard has for years sailed one or more ship around the world on World Voyages. On the world cruises it's possible to break the cruise up and only sail one or more segment. In fact many of the non Trans-Atlantic sailings are available in segments other than the full cruise.
Call us about specials available on Cunard and to discuss booking your next cruise on Cunard. We are available directly at 713-429-1487.