For your discounted Passport and Visa services be sure to enter our account number 45541 in the box on the upper right side of the first screen. This will help save you some money.

Certifications: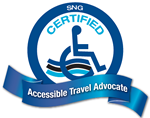 Avalon Waterways - Specialist
Azamara Club Cruises - Five Star Agent
Bermuda Board of Tourism - Bermuda Specialist
Carnival - Bachelors of Fun
Cayman Islands - Dive & Nature Master Specialist
Cayman Islands - Master Specialist Family Travel
Celebrity - Five Star Agent
Costa - Training Academy Graduate
Cunard - Commodore
InnerSea Discoveries - Adventurist
Norwegian Cruise Line - Freestyle Certified
Oceania Cruise Specilist
Princess - Commodore
Regent Seven Seas Univerity Graduate
Saint Lucia Specialist Graduate
SNG Certified Accessible Travel Advocate TM
What Makes Crystal Cruise Line Different

Luxury Cruise Line Crystal Cruises
Crystal prides itself on being the only luxury cruise line that is all inclusive. That is the tag line they want potential guests to know. They deliver a very classy luxury service level to all guests aboard. The service is refined and intuitive. You have your own personal butler to take care of your needs in the cabin or out.
Dining is one of the key aspects to a cruise experience. The folks at Crystal do fantastic job of delivering an incredible dining experience. Dining is upscale with excellent plated service. You are welcome to dine in other than just the main dining room, but you may just miss out on the incredible atmosphere created just for you.
The Crystal ships are beautifully appointed providing a upscale cruise environment. You will find the cabins are larger than you find on many ships. Crystal uses fine bedding, linens, and toiletries to provide a better cruise experience. You are welcome to dine in your cabin 24 hours a day and will find that when the food is delivered it is done in a much more upscale manner than on other lines.
Where Crystal Sails
Sail the world with Crystal Cruises
Crystal sails all over the world. Their two ships sail around the world visiting all kinds of different destinations making is a great line for those looking for extended cruises to multiple regions of the world. Instead of repeating the same itinerary several times Crystal offers a variety of itineraries each year to cater to a wide audience of guests.
Crystal recommends using a travel agent and works exclusively with travel agents. To that end contact us about booking your next luxury cruise on Crystal. We can be reached directly at 713-429-1487.