For your discounted Passport and Visa services be sure to enter our account number 45541 in the box on the upper right side of the first screen. This will help save you some money.

Certifications: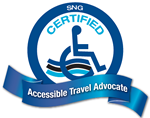 Avalon Waterways - Specialist
Azamara Club Cruises - Five Star Agent
Bermuda Board of Tourism - Bermuda Specialist
Carnival - Bachelors of Fun
Cayman Islands - Dive & Nature Master Specialist
Cayman Islands - Master Specialist Family Travel
Celebrity - Five Star Agent
Costa - Training Academy Graduate
Cunard - Commodore
InnerSea Discoveries - Adventurist
Norwegian Cruise Line - Freestyle Certified
Oceania Cruise Specilist
Princess - Commodore
Regent Seven Seas Univerity Graduate
Saint Lucia Specialist Graduate
SNG Certified Accessible Travel Advocate TM
Celebrity Cruise Lines

Celebrity, part of the Royal Caribbean Family of Cruise Lines
Celebrity is the upscale cruise line within the Royal Caribbean family. It is also the second largest of their cruise lines. Celebrity aims to serve the market of upscale cruisers who aren't looking for the mass market cruise experience offered by Royal Caribbean and are also not looking to have the experience of a full luxury line such as Azamara.
If you are looking for classy ships, attentive crew, fantastic food, multiple food venues, unlimited beverage packages for purchase, a great mix of destinations, and a great past passenger program Celebrity has it all. Celebrity sets itself apart from other larger capacity ships by providing an unparalleled level of personalized service. The guest to crew ratio is rather low for a ship of this size.
Celebrity offers a wide variety of accommodations to meet the needs of all cruisers. There are shipboard programs for kids allowing the parents to enjoy alone time. There are plenty of activities thru the day both on sea days and port days to keep guests entertained. The ships also have a full compliment of entertainers to professionally entertain the guests.
Where does Celebrity Sail?
Celebrity brings world class service to the entire world
Celebrity Sails all over the world offering cruises on six continents. At various times during the year ships are moved around the world to offer Celebrity Service to cruisers all over with great sailings to the Caribbean, the mainstay along with the Mediterranean for Celebrity. They also have great sailings in Asia, Australia, and around the horn in South America.
You should call us to discuss sailings on Celebrity and learn more about our experiences on Celebrity while we help you pick the ideal ship and sailing. Call us now at 713-429-1487.