For your discounted Passport and Visa services be sure to enter our account number 45541 in the box on the upper right side of the first screen. This will help save you some money.

Certifications: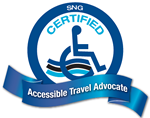 Avalon Waterways - Specialist
Azamara Club Cruises - Five Star Agent
Bermuda Board of Tourism - Bermuda Specialist
Carnival - Bachelors of Fun
Cayman Islands - Dive & Nature Master Specialist
Cayman Islands - Master Specialist Family Travel
Celebrity - Five Star Agent
Costa - Training Academy Graduate
Cunard - Commodore
InnerSea Discoveries - Adventurist
Norwegian Cruise Line - Freestyle Certified
Oceania Cruise Specilist
Princess - Commodore
Regent Seven Seas Univerity Graduate
Saint Lucia Specialist Graduate
SNG Certified Accessible Travel Advocate TM
Mediterranean Shipping Company Cruises

Who is Mediterranean Cruise Line?
This cruise line comes from the same folks who haul cargo all over the world as Mediterranean Shipping Company. These folks know all about exotic ports and schedules. They have been at sea as a shipping company a very long time. They have significant passenger experience as well.
When considering this line understand it is a European outfit and the service delivery is aimed at the European palate. Thus, you may not get what you expect, however the service, accommodations, and food are all very good.
For a different experience MSC Cruises makes a great option.
Where does MSC Sail?
Below is a list of the lines
Although MSC tends to sail in Europe and the Mediterranean, they do sail also to the Caribbean for short time during the Winter. Often they will offer great prices on these sailings to US residents.
Call us at 713-429-1487 to book an MSC Cruise anywhere in the world.