For your discounted Passport and Visa services be sure to enter our account number 45541 in the box on the upper right side of the first screen. This will help save you some money.

Certifications: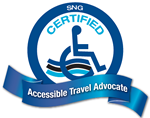 Avalon Waterways - Specialist
Azamara Club Cruises - Five Star Agent
Bermuda Board of Tourism - Bermuda Specialist
Carnival - Bachelors of Fun
Cayman Islands - Dive & Nature Master Specialist
Cayman Islands - Master Specialist Family Travel
Celebrity - Five Star Agent
Costa - Training Academy Graduate
Cunard - Commodore
InnerSea Discoveries - Adventurist
Norwegian Cruise Line - Freestyle Certified
Oceania Cruise Specilist
Princess - Commodore
Regent Seven Seas Univerity Graduate
Saint Lucia Specialist Graduate
SNG Certified Accessible Travel Advocate TM
Celebrity Millennium October 2011
Houston to SE Florida, cruise and head back to Houston
Traveling to the Port of Miami:
We departed on a Friday evening from our home to fly Southwest Airlines to Ft. Lauderdale. Although not the closest airport to the Port of Miami, it is close enough that when you save lots of money on the air and with 2 free bags per passenger that helps with cost containment as well. Unfortunately due to mechanical issues our flight was an hour late leaving Houston, however flying fast did help us get there only about 45 minutes late.
We got our luggage and called the hotel we like near the Ft. Lauderdale airport and waited about 5 minutes for the shuttle to arrive. Then off to the hotel where our keys were already waiting for us. Quick check in, up to bed for a short sleep. The next morning would be filled with excitement as we head to check out a new ship and new cruise line.
Day 1 Saturday Departure from Miami:
As I was bringing food back to the room from the buffet at the hotel, I had a call from our driver confirming he could be there early to get us as I had requested. A couple hours later we met the driver handed over our bags and started the journey to the Port of Miami. The excitement built as we picked up two more couples and then pointed South heading to the Port of Miami.
We arrived at the port about 11:15 am and dropped the other two couples off at their ship. Next stop the Celebrity Millennium. The first thing I noticed was less traffic than I had noted at other ship boarding times we have experienced in the past. The entire boarding process moved fairly quickly. Next thing we knew we were aboard the ship being offered sparkling wine.
We headed to our cabin just after 1pm to drop off our backpack and put things in the safe that we don't need to carry around all day. Shortly thereafter our cabin attendant Lydia knocked on the door to just introduce herself and answer any questions about the cabin. We set up with her at that time delivery of coffee each morning for the rest of the cruise.
Not long after then we headed to our assigned muster station for the SOLAS required muster drill. It was fairly crowded but inside a lounge instead of our by the lifeboats so no complaints. Then back to the cabin where our luggage was awaiting our arrival. Quickly unpacked and began some relaxation time while we also watched sail away from our super sized balcony. After sail away and a bit of exploring the ship we were off to dinner in the Celebrity Select dining program where we got to pick when we wanted to dine each day.
Once we completed dinner back to relax in the cabin. The wife headed to the welcome aboard show and I kept on relaxing. She got back and told me that she really enjoyed the show and about some of the acts she saw.
Day 2 Sunday (Day at Sea):
It was a slow day with relaxing as part of the plan for the day. We also attended the Captain's Club welcome back party. As diamond level members (almost diamond plus) we were able to join the Captain's Club as Elite members. This brings some nice perks while aboard, including the Elite breakfast and evening cocktail events. These tend to be really nice places to meet fellow cruisers who also really enjoy cruising.
We ran into a few rain showers in the morning but nothing too bad. It didn't affect the ships stability or anything like that. The rain only drove everyone inside for an hour or so when it was in the area. Once the rain passed the deck lounge chairs began to fill up with people out sunning themselves. The pools and jacuzzis were also filled with folks enjoying the sun.
We enjoyed a very relaxing day around the ship. That is the goal of this cruise is to relax as much as possible. We also plan to enjoy all the good culinary events we can while on this cruise and have enjoyed the events so far. One in particular was the galley tour which is open to all of the passengers. Everyone got a nice visit to key areas of the galley, not as extensive as another galley tour I had on the Voyager at one point, but a great experience. What I think is really great is on this ship it is open to all passengers.
One other are of the ship I saw today was the florist shop. We happened to walk buy it quite by accident. It is amazing place with all the beautiful displays they have set up for use around the ship. For those who opt for a Concierge Class will find fresh flowers in the cabin daily, which takes the cabin to a whole new level of nice.
Day 3 Monday (Falmouth, Jamaica):
Today we arrived in Jamaica. We set the clocks back overnight so it seems like we arrived very late in the morning. It is good if you want to sleep in. We had a quick breakfast and then spent some time checking email and other fun things around the ship. After we let the masses who wanted to get on to their shore tours get off we decided it was a good time for us to hop off to explore the port. In July I was in here with my daughter but we enjoyed staying aboard Allure instead of getting off to explore. Since July a lot has changed here and the port is bustling with far more shops.
After lunch we were taking a break from shopping in the port area. We flipped on CNN just to get a flavor of what is happening North of us back in the USA. Wow, there it was Hurricane Rina was just upgraded at the last position update from a tropical storm to a hurricane. The path of the storm was not shared specifically, but looking at radar pictures it would appear the outer bands of the storm may be dumping rain in Grand Cayman which will be a disappointment if that is the case. The other issue becomes the possibility of bad enough weather tomorrow that we can't tender. I suppose we could just end up with a long cruise back around Cuba to Miami. We will hear more as we depart Jamaica I expect, especially if a decision is made today to forgo Cayman. (This is not a normal occurrence on cruises, but is always a risk when sailing during hurricane season so we just take it in stride.)
On the agenda for later this afternoon is a high tea event for Captain's Club Elite members. I hope then to find out more about some of the special culinary events open for folks who are willing to spend a few bucks. I understand there is one morning an opportunity to go work with the Head Pastry Chef whipping up some of the fine pastries served up each morning aboard the ship. I am looking forward to learning more about that one, especially if there is a hands on opportunity to turn almond paste into various flowers as that chef was demonstrating during the galley tour.
After attending the Elite member high tea, it was off to some of the events for the day. One of the demonstration Celebrity Life Events today was what to eat or not eat game followed by a second event what to cook or not to cook which was really interesting. Seeing some new techniques is always nice. The event was reasonably well attended and put on by the senior team from food and beverage. I believe they have as much fun putting it on as everyone does attending it.
At shortly before 6pm we received official word that we would not be going to Grand Cayman as expected tomorrow. This is due to Hurricane Rina in the area we were headed. Later in the evening during turndown service a latter from the captain was left in everyone's cabin. Fortunately everyone I've run into seems fine with it. Of course many of those with whom we chat are other experienced cruisers so that is more or less an expected reaction in this situation from that type of cruiser.
We had a nice dinner in the main dining room again tonight. Service was a bit slower for some unknown reason. The past couple of days service was very much in sync and fast, where we were able to have a five course meal in an hour. Upon arrival back to our cabin we found the Celebrity Today newspaper (or couple of pages as it may be) with all of the information about tomorrow. The crew worked very hard once the final decision was made to change the ship's course to retrace our path to get back into the Bahamas.
Day 4 Tuesday (Original plan is Grand Cayman - Now it is Unplanned Day at Sea ):
The day at sea is filled with many different activities on the ship. One of the highlights of the day according to the newspaper is the Celebrity version of Iron Chef. It is a good day to start out slowly. We are in the process of enjoying relaxing and getting some coffee.
Because of the change in the itinerary, the crew talent show and many other events scheduled for Wednesday were moved instead to today. The Iron Chef style cooking competition and then Millennium's Got Talent shows ran back to back in the main theater. Both were well done and flowed well despite the technical difficulties that caused the cooking demonstration to start late. It is hard to complain when you think about the mass change in plans from what was to happen today to what is happening today which affects virtually every crew member on the ship.
The Captain's noon announcement was hard to hear from the balcony but precisely at 12:03 as he said it would be each day. I suppose the extra three minutes is a superstition of his. He gave an update on Hurricane Rina which appears to be getting ready to pound Central America and/or Mexico. We also were given news that we will be among a small fleet of cruise ships already scheduled to be in or just now changed up to be in Nassau tomorrow. The word is between 5-6 ships will be in all at once. I honestly hope Allure or Oasis is not among them as they equal about 3 Millennium ships when at normal capacity. I doubt either will be since they sail until the weekend and coming back to Nassau this early in the week would make me wonder where they would end up next. We will see tomorrow.
On the agenda for later today is a wine tasting event for Select and Elite Captain's Club members as well as a back stage tour of the theater. I may skip out on that tour after having done so on the Allure of the Seas which is fantastic.
The day was good overall. The weather deteriorated as the day went along. Some of it is tied to weather disturbances caused by Hurricane Rina while some of it just happens to related to the seas in the area we are sailing today. A few guests were overheard complaining that the rocking and rolling has them feeling a bit under the weather. Fortunately the Transdermscop patch seems to be working very well for many other passengers who have been spotted around the ship wearing them.
During the evening we had a chance to chat with the hotel director (#3 in charge of the cruise ship) and learned that because the ship was recently sailing in Alaska, there were more US crew aboard, at least amongst the officer ranks. This comes from the ability to have these crew work on things off the ship in addition to aboard the ship. Although we did not get into lots of specific details, Celebrity does a lot to ensure the passengers/guests receive a top product the entire time they are on a cruise and land vacation package.
Tonight we had the traditional cruise fare at the end of the meal, what is it? Baked Alaska which was even paraded around the dining room with flames on each tray. This is part of the culinary experience focus that Celebrity has during each cruise. The remainder of the meal was good as always with quite a variety of items from which to choose while dining.
We heard that those taking the cruise leaving on Thursday, both those aboard on a back to back cruise as well as those boarding on Thursday will likely sail a modified itinerary due to the hurricane. It really is a shame for those currently aboard who really wanted to see alternate ports because the next cruise being only a four night cruise has few options as for where else to go.
Day 5 Wednesday (Original plan is Day at Sea - Now it is Unplanned Day in Nassau the Bahamas):
Today we will see a host of cruise ships with us in Nassau. Many had to modify their itineraries like we did. At the time we docked there are now five ships here. There is one pier completely open for docking another ship, so I suspect the rumour I heard about a sixth ship is likely true. Here so far are the Royal Caribbean Cruise Line Monarch of the Seas, Norwegian Cruise Line Jewel, Carnival Fantasy and Carnival Serenade. The CCL Serenade in fact was on an almost identical route as us although they supposedly sailed first to Grand Cayman.
If we see the same folks on the van to the airport that were on the van to the port with us I am sure we will know what did in fact happen for them. I heard one of the ships officers telling other guests the ships who did on Monday attempt to tender in Grand Cayman had problems and/or ended up having to skip that port due to weather, and that was when Hurricane Rina was just a tropical storm.
I guess shortly when I get to the lobby of the ship I will get a chance to see exactly what Rina looks like as of today. Yesterday they had a big board up with weather information received by the ship up on the bridge. The radar picture from when we would have been in Grand Caymans showed very heavy rain bands sitting over the entire island so likely we would have been just sitting on the ship anyhow.
I think my wife will enjoy the spa today while I do some work on various web sites, offline that is. After lunch we will go for a walk around Nassau so I can replace a shipwreck coin that mysteriously disappeared from our home.
It looks as if some passing showers may hit us here at the dock. Not the end of the world but it sure does tend to make a mess of things around the ship. It will also make walking around Nassau far less exciting than when it is nice and sunny out. Oh well regardless we will have a fun day here.
As I set the computer down in the cabin so I can go for a walk, I decided to head out onto the balcony to see how the weather is improving. It is not as bad as it looked thru what must be heavily tinted windows in one of the common areas of the ship a deck down from the cabin. Also, here comes number six, the Carnival Glory is turning around about ready to back into the slip next to us.
We took time to run into town to explore and see what the shops have for us. As we walk down the pier in comes ship seven. In the end four Carnival ships are there...the total ship count puts crew and guests at around 23,500 in Nassau for the day. As we sailed two others were tossing lines ready to follow us right out to sea, at least one right on back to Miami.
Another good day on the cruise ship with lots of relaxing time as well as activities of our choice.
We ate dinner in the buffet tonight after saying see ya later to various new friends we made while on this cruise. It is always fun to meet new people while cruising. Then we packed our stuff and went to bed.
Day 6 Thursday (Miami, Florida):
We get to go home and see our daughter today. Despite having a good cruise, it is very nice to get back home to our daughter. What a great day, after an awesome cruise, getting home to family who did not travel is always awesome.
I got my wake up call, only the second time we used one on the cruise. I looked out and we were sailing down the channel in Miami to the turn around basis. By the time I was up, showered, and getting myself going in full swing, we docked. Then we headed up to eat in the buffet. It was only a quick breakfast then back to the cabin for a couple more minutes of packing and off we went to our departure lounge.
We were among a couple hundred cruisers who selected the self disembarkation program under which we carry our own bags off the ship. We were told it would begin at 0630 and sure enough on the dot they called our lounge to tell us lets go. Within about 10 minutes we were down, thru Customs (no immigration officers were there to specifically greet us, Customs checked our passports) and out to a bench to wait for our driver. I had expected we would be off and at the bench closer to 0730 so nearly an hour ahead was a very pleasant surprise. The whole process went so smoothly.
A smooth ride to the airport and fast check in at the airport and we were waiting for our flight which had not even left the city it came to Ft. Lauderdale from. Our flight was on time and we got home to Houston Hobby on time as well. Then an hour later we were in our own driveway, which was among the smoothest transitions from being on a cruise to back at home/work.
Overall Thoughts and Comments about the Cruise
We really enjoyed our cruise aboard the Celebrity Millennium. The service provided by Celebrity crew was very nice.
Additional Info and pictures from this Cruise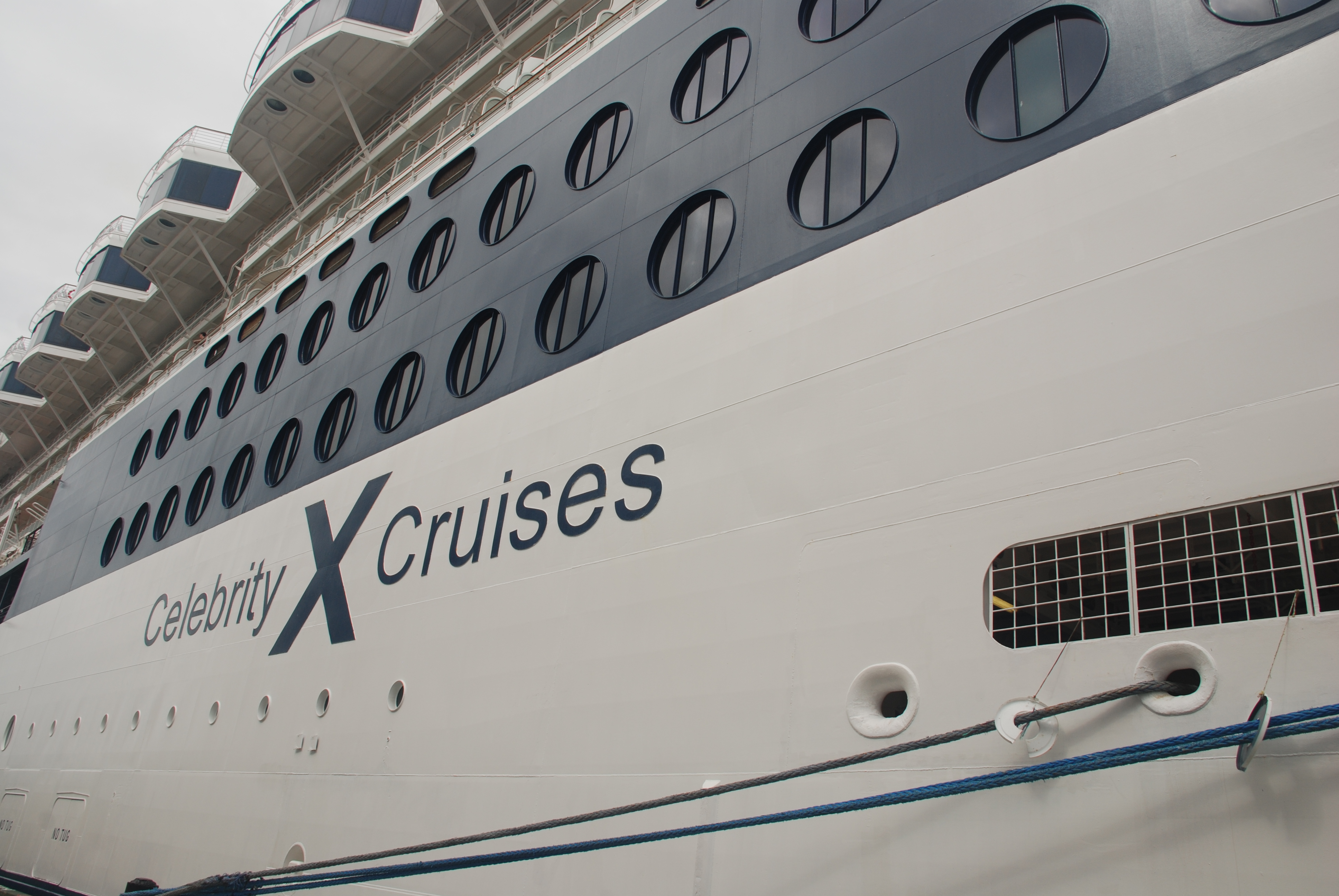 Celebrity Millenium docked in Nassau, The Bahamas (above)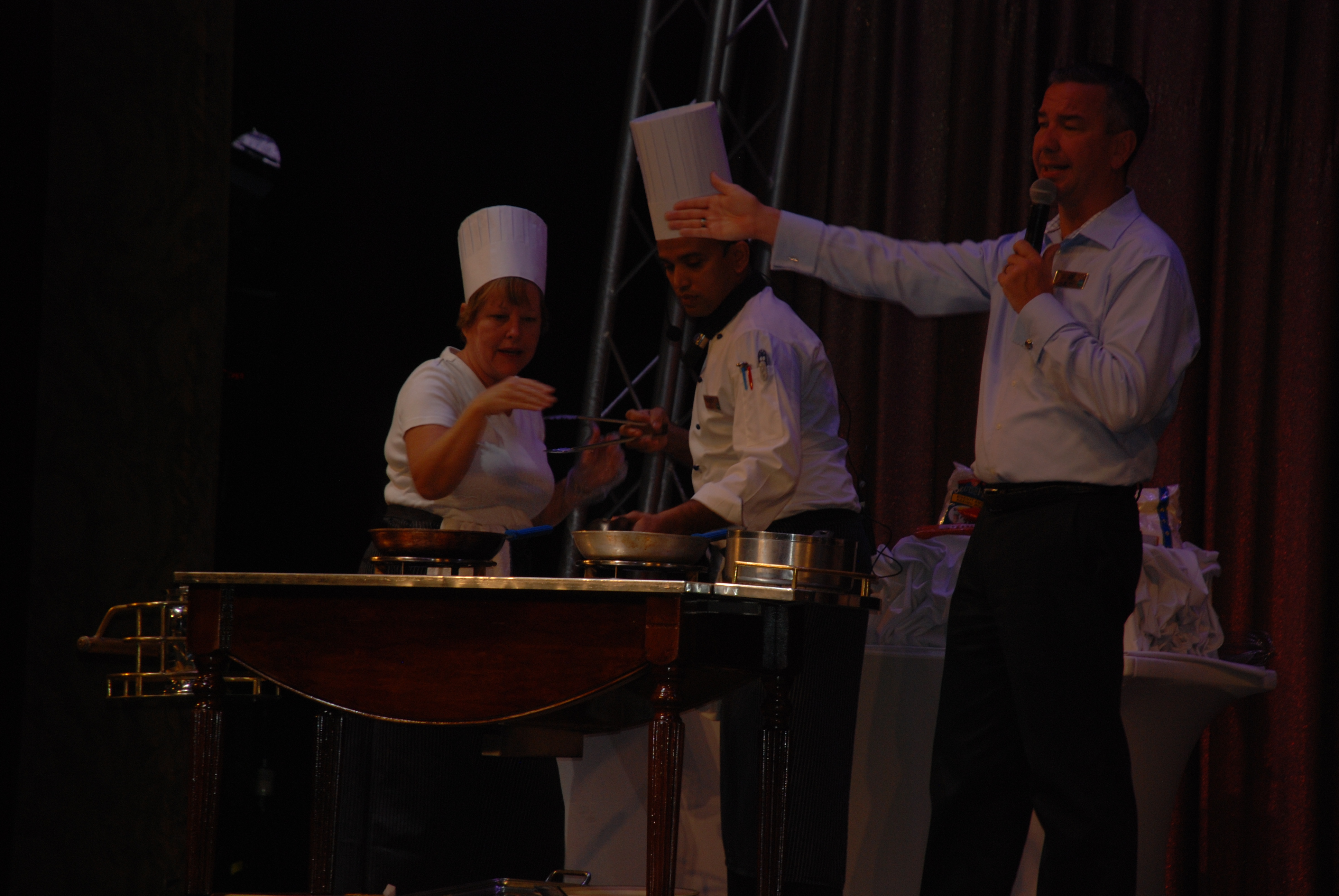 Cooking competition aboard the ship last sea day (above).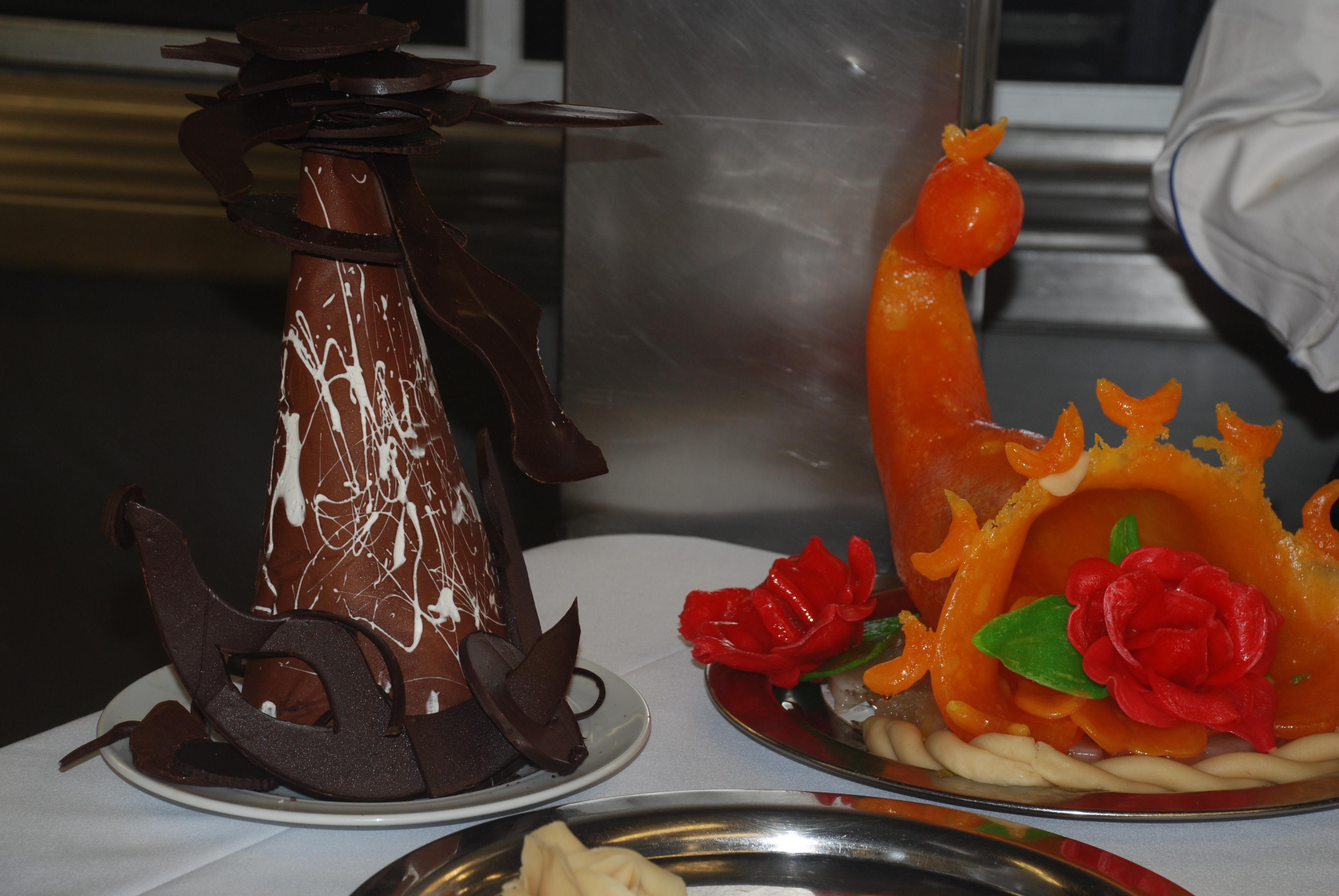 Pastry Chef special creation for tour of Galley held for any guest who wants to go on first sea day (above).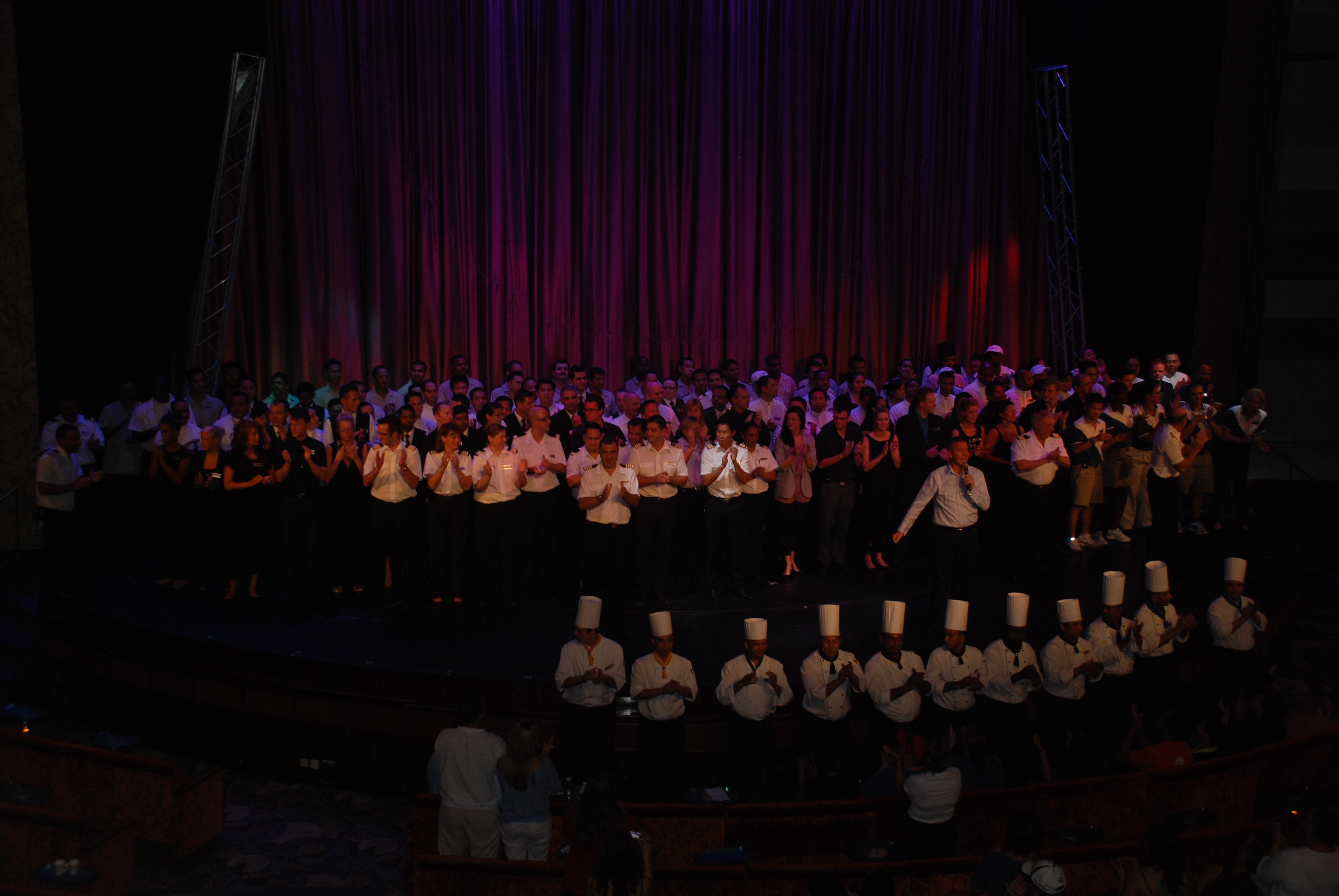 Crew Talent Show all officers and many crew pose for picture at end of show 2nd sea day (above).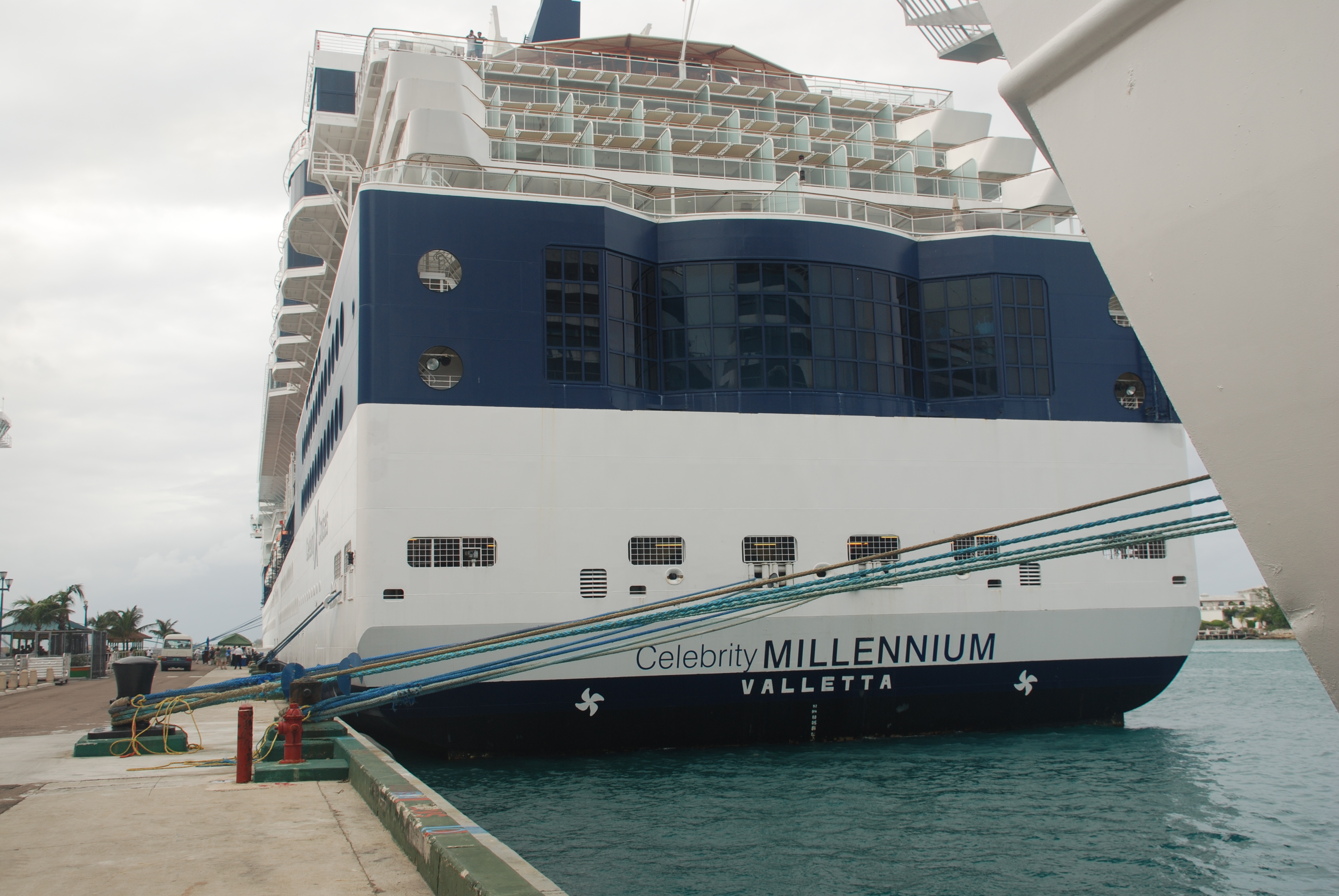 The Cellebrity Millenium (above), at the pier in Nassau, The Bahamas.