For your discounted Passport and Visa services be sure to enter our account number 45541 in the box on the upper right side of the first screen. This will help save you some money.

Certifications: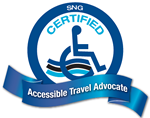 Avalon Waterways - Specialist
Azamara Club Cruises - Five Star Agent
Bermuda Board of Tourism - Bermuda Specialist
Carnival - Bachelors of Fun
Cayman Islands - Dive & Nature Master Specialist
Cayman Islands - Master Specialist Family Travel
Celebrity - Five Star Agent
Costa - Training Academy Graduate
Cunard - Commodore
InnerSea Discoveries - Adventurist
Norwegian Cruise Line - Freestyle Certified
Oceania Cruise Specilist
Princess - Commodore
Regent Seven Seas Univerity Graduate
Saint Lucia Specialist Graduate
SNG Certified Accessible Travel Advocate TM
Voyager of the Seas November 2010
Galveston to Central America and Back
In this example of what to expect on a cruise, I am sharing my personal experience on the 2nd Galveston sailing from the 2010-2011 season. I sailed in a D1 Balcony cabin on the Starboard Side of Deck 9.
Day 1 Sunday, what a great day:
Beginning a cruise typically is. It is very nice when you only have to hop in the car and drive to the port. That makes getting to the ship so much easier, and top that with the idea that when arriving back home, it is a quick drive to the house as well. I was aboard the ship at noon, after leaving the house at 930, spending a bit over an hour driving to the port, parking, being shuttled to the pier, getting luggage handled, waiting in line, getting thru security, checking in and walking up the long ramp ...lines were long at the entry and the security photo's. Otherwise things flowed pretty well. Once on the ship, I detoured away from the crowd (most rush to the Windjammer to go eat lunch) and went to Cafe Promenade to have a quick lunch. On the way I picked up the tour brochure and picked up my soda package for the week. After eating, I still had a bit of time to kill before they will let me into my cabin. (Cabins are not available until 1pm and sometimes even a bit later than that.) I went ahead and booked my tour for Belize. Then off to do some sightseeing and then to my cabin. I got to the cabin and offloaded my carry-on bags. I then went on a hike to see what was going on around the ship...then eventually went to find my luggage. Found it and unpacked. After my sightseeing on the ship, I went to the Promenade to see the vendor displays and enter the drawing put on by the on board shopping guide...it killed some time as we approached sail away. I also popped up to Portifino's to book my dinner for that evening along with other evenings. The first day is a great day to settle in and begin relaxing. On this cruise we had two sea days ahead.
Day 2 Monday:
I woke up early to work out when the gym opened. The gym on the Voyager is great...lots of machines and usually by 615 or 630 quite a few folks can be found working out there. In fact each sea day I saw the Master working out along with one of the other deck officers. They were always friendly to the passengers. (Yes select crew are allowed to use guest areas, and Deck officers as well as entertainers aboard are some you may see at the pool or in the gym.) Back to the cabin to clean up ...watched the Cruise Director's morning show. He has a daily trivia question. Later in the day I answered the question, and wow, I won... There are tons of different activities available on the sea days. Sometimes more that you want to do than are possible ...I choose to participate in several and had a great time. I signed up for the rock wall and ice skating and did climb the rock wall. I participated in a get together of folks from a web site that were all on the ship. One of my favorite activities was watching the cake making demonstration, in which one passenger participated along with the cruise director and executive chef. More activities in the afternoon...swapped over to My Time Dining. (My Time Dining allows you to pick a time to dine each night or one for each night, other than the normal Voyager 530pm or 8pm dining times.) Kept going all day with lots of fun activities...then my first dinner at my time dining. Wow, the wait staff Bonny and Walter were fantastic. This was the first of two formal nights on this cruise. The Captain held a reception for all guests in the Promenade which is where all of the senior officers are introduces to the passengers. It is also a good time to learn how many passengers are aboard as well as how many nationalities are represented. On this cruise more than 1/3 of the passengers are members of the Crown and Anchor Society for return cruisers on Royal Caribbean.
Day 3 Tuesday:
Today was our second straight day at sea. Sea days are usually filled with far more on board activities than sea days and this day did not disappoint either. Again I started the day by working out in the gym and then spent the rest of the day relaxing and participating in various activities around the ship. This evening was the welcome back party for those who are members of the Crown and Anchor Society. As always it is a fun function where you get to meet others who love to cruise.
Day 4 Wednesday:
Today is the first Port of Call, Roatan, Honduras. It is a nice place for those looking to dive and snorkel. The area around the port is very nice with lots of lush vegetation so even just having a look around the port area is a nice activity. On this day I spent my early morning hour up in the gym followed by a break for some pastry and beverages. Then out on the balcony to watch us come into the shore/dock area. As we docked Port side to the pier I ended up taking a hike to get a better vantage point to watch the docking. No port tour for me this day, instead I went to the pier did some looking around for a while then back onto the ship to relax. As the day went along, it was time to watch sail away and then on to dinner after a bit of time visiting with other Diamond or above level members at the nightly diamond reception.
Day 5 Thursday:
For our second port day, we anchored off Belize and were able to tender to shore. I was booked on the Reef Rocket Snorkel Tour. This morning it was up early again to work out. Then back to the cabin to wash up and get ready for the designated meeting time in the theater...our tour met in the theater because we were going to be escorted to a tender just for those on tours. The weather outside was questionable, but I remained hopeful all would go well. Then they cancelled the snorkel and beach break...oh no, I stayed hopeful. Finally my tour was called. Off to the tender...wow it was full, and it was an open back deck where I found a seat. Note, it was raining and blowing cold as we headed to shore, which was not visible from the ship due to the rain and foggy type weather all around. By the time we arrived in Belize City at the dock all the folks around me were ready to just not go on the Reef Rocket, we were all cold and wet already. Off to the tour operator who gave various stories out and ultimately said go do something for a couple hours and they will decide if the tour will go or not. Then about an hour later we were lined up to get on the boat and go...which we did do after a while. Then we figured out the boat had a broken engine. So after an hour of playing around with the boat we were back at the dock where the tour manager from RCCL met us and confirmed we will all get a full refund. Oh boy, glad it didn't end up costing any money, but the day was shot and it was too late to do another tour...not RCCLs fault and RCCL did their best to resolve it quickly. Because we were originally to be picked up at the ship, not shore, and were to be returned to the ship most of us had not taken money or credit cards with us to shore...so for me it was back to the ship, wash up, eat a snack, and then back to Belize City for a quick shopping expedition where I had already picked out what I wanted. So for a 10 minute shopping spree I spent more than an hour going from the ship, shopping, and heading back to the ship. On the tender in I did get to chat with many crew who were off for the afternoon and who wanted to go contact family back home to say howdy. After returning to the ship I watched the two Carnival ships sail away and eventually our own sail away, which led us right into rain storms. Then down for dinner and an evening of relaxing. Yes I did go watch the final production show for the production cast aboard the ship. They go home on vacation on Sunday when we arrive back in Galveston. Many crew get to change out on Sunday as well. Despite the foul weather and the ultimately cancelled it was still a great day on the cruise...relaxing itself is always a nice thing to do on a cruise.
Day 6 Friday:
The always present Cozumel, our final port of call. Cozumel is found on virtually all Western Caribbean cruise itineraries. This is a port for parties, beach time, and scuba. Of course plenty of other activities are available. For my day, I kicked up the exercise up in the gym by an additional 33% so I am now getting a nice work out. I then went back to the cabin, showered, had a bite and watched as we docked in Cozumel. It was a very windy day and the swells were big as well, so it was more interesting watching this docking. I also got to watch several other ships dock as there were a total of six cruise ships in port. Voyager was joined by two ships from Carnival, one from Holland America, one from Costa (one of that lines nicest ships), and one from MSC (Mediterranean Shipping Company). So figure about 15,000 passengers will be in town that day. I looked into a cooking tour, previously I had snorkeled here, but found that what they were to cook was not to my liking, so instead I decided to just chill. (I did catch up on some work as well.) It is amazing how quite a ship can be while in port and most folks are off the ship. It is formal night again and this time it was also Lobster night in the dining room. After dinner I attended the Platinum and above cocktail reception. It is always great chatting with other cruisers...in the case of this evening I ended up sitting with the Master's wife who participates on the computer chat board. She is very nice and is excited that her children and mother will be aboard for Christmas and some for New Years as well. I skipped the show, which was someone who impersonates folks with tons of voice changes. So instead I relaxed and got some sleep in time to wake up early one more time for another day of exercise and relaxing.
Days 7 & 8:
We returned to Galveston safely after a day at sea. This was a nice end to a great cruise.
Additional Information about this cruise