For your discounted Passport and Visa services be sure to enter our account number 45541 in the box on the upper right side of the first screen. This will help save you some money.

Certifications: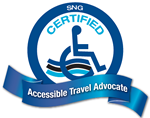 Avalon Waterways - Specialist
Azamara Club Cruises - Five Star Agent
Bermuda Board of Tourism - Bermuda Specialist
Carnival - Bachelors of Fun
Cayman Islands - Dive & Nature Master Specialist
Cayman Islands - Master Specialist Family Travel
Celebrity - Five Star Agent
Costa - Training Academy Graduate
Cunard - Commodore
InnerSea Discoveries - Adventurist
Norwegian Cruise Line - Freestyle Certified
Oceania Cruise Specilist
Princess - Commodore
Regent Seven Seas Univerity Graduate
Saint Lucia Specialist Graduate
SNG Certified Accessible Travel Advocate TM
Sapphire Princess 2 week Alaska June-July 2012
General Comments and thoughts about the ship and itinerary:

Overall this ship is a lot like the Island Princess, so different from other cruise lines. That is a good thing as if all cruise ships were completely alike life as an avid cruiser could get very boring quickly.  Again we have found that crew are trained to the C.R.U.I.S.E. standard and serve as much as hosts as they do crew/hotel staff making sure the ship sails safely and guests are served properly.

Again I am pleased with my choice to sail Alaska on a Princess Cruise ship. In fact my impression is that Princess probably is the best choice for sailing to Alaska based on a comparison to the Royal Caribbean sailing on the Serenade of the Seas three years ago, almost to the day. Princess seems to have more locals come aboard to enhance the Alaska experience than we recall on the prior cruise and Princess has half of the slots to sail into the Glacier Bay National Park.

The ship's various venues are all in good shape. I only noted rust in a couple of spots that are more difficult to maintain on a regular basis. Of course, the ship was recently renovated so everything would be expected to be in good shape. I was pleased with the condition of the ship and attention most crew paid towards keeping it neat and clean.
We did not see tons of hand sanitizers. I suspect the fact that really they do little to help with noro-virus leads to reduced placement of them around the ship. It would be nice if everyone would wash and dry their hands after using the bathroom. However, I saw often where people didn't do so for whatever reason.

Day by day review of my trip:

Thursday 28 June 2012 (Houston to Vancouver):

Today was basically a prep day around the homestead. We left for the airport around 5:15 p.m. and ended up at the airport with enough time to have an overpriced (normal pricing for an airport) sit down dinner in the terminal diner.  Shortly after heading out from the diner we were at our gate ready to travel to Vancouver. 

The flight had to fly thru and around some convective weather giving us some additional bumps, but nothing we could not live with. Only once did the pilot out of an abundance of caution have the flight attendants take their seats to ensure nobody would get hurt, but a few minutes later we were thru the rough air and were flying right along again.

Arrival into Vancouver was smooth. We were about 5 minutes early which was nice, but sad to say luggage was slow to arrive so we didn't really get to the hotel early.  When we did arrive we were quickly in and to our room. We ended up with a nice corner room on the concierge level of the Pan Pacific at Canada Place. That is the hotel right atop the cruise terminal where most ships dock in Vancouver.

Friday 29 June 2012 (Day in Vancouver):

Unfortunately, we had a semi-bad weather day today in Vancouver. So instead of cry about bad luck, we enjoyed the views around our area despite heavy cloud cover. When the weather was bit nicer we went out for a walk around the area and thru part of downtown. It was a refreshing way to spend some time in and around Vancouver.  We did not see as much as we initially planned, but had a great time anyhow.

Although not the ship we were to sail, we did have the pleasure of seeing Celebrity's Millennium dock in the morning and sail away in the afternoon. In fact we were surprised to see it sail away since I thought it would sail shortly after they held muster and we had gone shopping when they probably would have sailed, but we were in luck and they sailed a bit late where we got to see it. This is a ship my wife and I have sailed not too long ago. It recently had a refit of various areas in the ship making it an even nicer ship for the guests.

By the end of the day, the very late night before along with a 2 hour time change, where we added 2 hours to our day, began to catch up with us and took its toll and we all ended up in bed a bit earlier than normal. That worked in our favor though as we wanted to see the Sapphire Princess sail into the berth at Canada Place.

Saturday 30 June 2012 (Embarkation):

I was the first one up in the morning and took a peek out the window overlooking the berth where cruise ships dock. When I first looked there was no ship, but within a few minutes I saw the unique bow design of the Sapphire peeking around the end of the pier.  That started the better part of an hour long process of turning the ship and getting tied to the dock. I didn't watch it all closely, but instead watched some and then showered so we could grab some breakfast up in the concierge club.

When we got to a table we liked in the concierge club, I was able to look down and see the Holland America Ship, I believe Zuiderdam there waiting to offload and load up passengers and goods needed for an enjoyable cruise for a bunch of passengers on that ship.  We enjoyed a great continental breakfast in the club and headed back to the room to enjoy the view more and get everything ready for the actual embarkation process.  As part of the get ready work I folded over the printed luggage tags and my daughter obtained a stapler from the front desk so we could attach the tag to our luggage. We were then ready to go.

Because I had us stay at the Pan Pacific we went to the lobby to check out and then one more elevator down to the cruise ship level where we walked about ¾ of a city block to where we turned over our luggage and started the process of immigration into the USA before boarding the ship. Once past immigration we checked in fairly quickly and went straight onto the ship.  We timed it all well enough to avoid any really long lines past immigration. Immigration though was processing passengers for both ships so that line took 15 to 20 minutes from start to finish. The whole process from our cabin until we were in the line of folks processing onto the ship via the ship's security system took about 30 to 35 minutes, which is really not bad at all.
One of the first things I did notice was that they had new hand held scanner/photograph devices for processing us onto the ship. Thus, the familiar DING was gone from that area of the ship, but it seemed to process faster, and since these same devices are in use for muster accounting and other things around the ship it seems like technology is improving some processes about this and probably other Princess ships.

We enjoyed walking around and seeing various venues on the ship. We set up our internet accounts and took care of a few minor chores. Next thing you know it was time for Muster drill. As I commented in my Island Princess review the process is much improved this year over prior years.  This is all a direct result of the Costa Concordia sinking. The new process is more informative and authoritative. It seems more of the passengers are paying attention as well, which I personally liked seeing.  

After muster, we enjoyed some pre dinner appetizers at the Elite lounge while enjoying the improving weather and view as we sailed away from Vancouver towards and thru the inside passage. It was a beautiful view.

My daughter went to enjoy some time with other kids her age while my wife went to the welcome aboard show. I retreated for some rest in the cabin and got the day recorded into my review.  I typically write once or more per day depending on what is going on that day. It is a good way for me to record the day and give others a flavor of what it was like to be on this cruise. Reading all of my reviews gives you a flavor of what cruising can be like for you. Of course with so many activities other folks can have very different experiences by partaking in different activities.

Sunday 1 July 2012 (at sea):

As I like to do on a cruise, at least 70% of the mornings, I was up at 5:45 a.m. so I could be among the first on the exercise equipment.  The equipment on this ship is different from what was on the Island Princess. It is however very nice equipment. One thing I like about these machines is that all of the electronic stuff has a television screen so you can watch the wake show while working out. (So don't forget to bring your favorite headset when you come aboard.)

Today, as noted above, is a sea day, but unlike most sea days in the Caribbean or other areas of the world where you don't see much, here in Alaska you should always have eyes towards the water looking for whales and the shore for wildlife. Much of the cruise the ship will be within sight of land and in fairly to fully protected waters making is a fairly smooth cruise. There will be several hours between exiting the protected area outside of Vancouver until you enter protected areas as you get hearer to Ketchikan. Sometimes those areas get a bit rough, but that is about the only time you have any real risk for rough seas.

To my surprise, my birthday, which was a couple days before the cruise, was recognized this morning. My daughter knocked on my door to point out the decorations and birthday card from Princess in my incoming mail box. It was neat to see the balloons and big sign. This is a first in all of my cruises despite having celebrated birthdays and anniversaries on cruises before. (We were treated incredibly well on RCCL's Enchantment in the dining room though, but that is the only other over the top celebration by a cruise line.)

Today we have in store shopping shows, port excursion shows, a diamond jewelry trunk show, our first of four formal dinners, and many more activities today. It is a good thing that we have our Princess Patter to help guide us thru the day.

We enjoyed our formal dinner in the Pacific Moon dining room, one of three dedicated to anytime dining. It was the Captains Welcome aboard Reception dinner which for us meant we needed to eat early so we can watch the Champaign reception event afterwards.  It is an interesting experience to watch folks pour bubbly into a huge stack of glasses.

After dinner we first watched the Captain's welcome aboard speech and then my daughter and I swapped out clothes from formal to workout. (About as drastic of a change of clothes as possible.)  We then went to the gym for a good hour of working out, for both of us it was the second of the day. Then off to rest and sleep before arriving in Ketchikan.

Monday 2 July 2012 (Ketchikan, AK):

We arrived and tied up just after six a.m. giving me some time for video and pictures before we had to head to shore to go catch our ride to the seaplane port.  We are due to take a Misty Fjords tour in a small seaplane with one or maybe if we are in the big plane two other families. This should be an exciting experience.

We had an incredible time flying out to and seeing the Misty Fjords. We landed on an isolated waterway where we saw a Grisly Bear on the shore line. One of the other flights visiting at the same time also was in a position where they could see the bear. When at the stop we were able to stand on the float outside the plane to see things as close as possible. It was definitely a great experience and one I'd recommend to others sailing thru Ketchikan. (Of note the Misty Fjords National Monument is larger than Delaware and Rhode Island combined.)

After leaving Ketchikan a bit after 2 p.m. due to some late arrivals back on the ship (yes we waited for two who were off shopping) we headed into narrow passages of the inside passage. The scenery is stunning and sea life is incredible as well. We managed to see nine humpback whales and one Orca. Additionally, we saw proposes and sea lions.  Eagles were spotted several times but I was not near to the windows in the lounge so didn't look to see them. They are however always a majestic sight to see.

Dinner was at the buffet for convenience of getting in and out quickly. Besides after filling up on lots of appetizers at the Elite evening cocktail hour we really had no need for a three course meal in the main dining room anyhow. We may give one of the Specialty dining venues a shot tomorrow and the other again as we sail back South.

As I sit and type I turned the television to the bow cam, not for the music but for the view. I spotted almost immediately 2 more humpback whales off our bow.  That was just pure luck seeing them on the camera like I did. Wow is all I can say.  I think I will watch the sun set on the bow camera since there are really no good shows on otherwise, unless watching late night CNN or Fox is the ideal viewing.

Soon I will be asleep ready for an early morning of working out time. I will get in my work out early and then enjoy a good full day in Juneau probably coming back to the ship at lunch time. We will king of wing it while in town tomorrow.

Tuesday 3 July 2012 (Juneau, AK):

Today we are in port for a nice twelve hour stretch. This is good for some of the folks who want day long fishing expeditions. We may yet go on an extra fishing expedition, that will be decided only once we are ashore and chat with some of the vendors.

Arrival at the dock was interesting. We spun around to put the port side to the dock. I'm not sure if this has anything to do with the planned crew drill and lifeboat exercise or some other reason. I believe when we sail this evening we will spin again to sail out, but will have to wait and see to be sure. This is day two of three port days in a row before two more days exploring the various glaciers and wildlife filled fjords of Alaska.

One of the first sights today was a Bald Eagle sitting atop a tree watching the ship dock. Not sure if he is looking for fish in the nearby areas of water or what he is doing. He did seem intent on keeping an eye on what was going on around the area though.

We ended our long day on shore sightseeing by making plans for dinner at Sterling Steakhouse.  In the end my wife and I discussed the steakhouse experience and felt while the service was good the quality of food was sub-par for a specialty dining venue. We had steak a couple nights prior in the main dining room and that steak was fare better prepared for us. I wrote a note to the Maitre 'd Hotel about the lack of taste to the food, but as I write this part, have not had a response.

Wednesday 4 July 2012 (Skagway, AK):

The days started a few minutes later than normal for me on a ship, but I did enjoy the extra bit of rest. Tomorrow morning will even be an earlier get up and out of bed day since we have lots of scenic cruising to accomplish. My daughter joined me for a good hour of work-out up in the gym. We aimed for an hour after opening time to hopefully avoid some of the crowd which seems to have worked. 

After our workout we had a fast breakfast and quickly changed to go to shore since we were running tight on time until the advertised start of the Skagway 4th of July parade. In the end we found it would start an hour later than stated on the ship. We did see the parade, including the float by the Sapphire Princess.  I don't know what place the float earned, but would say the Cruise Director's staff (entertainment folk types) did create a great float.
We walked all around the town and shopped a bit today. I supported the efforts of the local volunteer fire department by buying a t-shirt in their annual food and t-shirt sale where they raise a lot of the fund needed to operate the department. The shirt has a really cute pictogram on the back depicting firefighters scaling the Chilkoot Trail on some form of rescue mission.  I will save it until I get home before wearing it out and about though.

We bought a couple of ducks in the Skagway Chamber of Commerce rubber ducky derby that raises funds for that chamber. If we will there is $1000 in the pot for the winner and five lucky randomly drawn rubber ducky characters will each win $100. Winnings for our family will open the door to a neat Alaskan made souvenir we have our eye on in one of the local shops.
Sadly we did not show or win the rubber ducky derby. It was a lot of fun watching the ducks race the "rapids" in the stream down to the pond. I believe the pond ultimately actually empties into the Pacific Ocean from an outlet (man-made) from the pond.  In fact the stream and pond even seem to be man-made.

As I finish out the info for today, we are turning around to sail away from Skagway, after having backed well out of port just a few minutes ago. What that means is no ports of call until Saturday when we arrive in the middle of the night to Whittier.  I am a bit unsure of why we arrive at the time we do as opposed to just sailing very slowly. I expect it has something to do with the tide but will have to do some investigation to know for certain.

Tonight because of the crazy way reservations are handled for Anytime Dining on Princess we skipped the main dining room opting instead for the buffet and for me the grille. We actually limited our food intake that way anyhow over what we would have consumed in the main dining room so in reality such a switch is a blessing in disguise for those of us on a two week trip.

We have aboard a naturalist who is now giving us some information about the scenery we are viewing as we sail away from Skagway in the Fjord on which the town sits. Soon we will see some waterfalls consisting of snow melt from the 3,000' tall mountains on both sides of the ship. The water here is 1,000' deep. On the West side of us is the Chilkat mountain range which is so full of snow from the 2012 record snowfall in the area.

Soon it will be bedtime since we have a very early wake-up to see marine mammals as they play in the waters outside of Glacier Bay, Alaska. We will be in a feeding zone so hope to get some good pictures and video of the whales feeding and playing. They don't live by a clock like humans so will likely be up doing their thing while most of the folks on the ship will still be asleep. My wife only prays the coffee shop is open when she gets up to go start her viewing.

Thursday 5 July 2012 (Glacier Cruising and Viewing):

I was up based on my wife's request to go see the whales when we first neared Glacier Bay. I called over to the cabin she and our daughter have only to get news they were staying in bed.  Since I was wide awake now I went ahead on out to see the whales and boy what a treat. The group of probably 100-150 folks who got up early and were out on the bow were treated to some excellent whale watching as we came into the Glacier Bay area.  We saw several whales, most notably a couple of pods that were about 100 yards off the side of the ship when they came up to show us some tail.

After the rangers from the park came aboard I returned to the cabin to get cleaned up for a day of nature viewing.  Then back up to the sky walker lounge for the day so we could have a 360 degree view as well as immediate access to outside decks for awesome viewing.  As was our prior Alaska cruise experience the sail thru the glaciers was fantastic once again.

This evening is the second formal night. We are about to head down to dine on a nice meal before attending the past passengers party. It should not be too huge since the mix of passengers this week is primarily first time cruisers.  The welcome back party was great and we enjoyed visiting with Patrizia the Captain's Circle host at the end of the event. After that was all over back to bed for some rest so we can work out bright and early tomorrow. We also will see College Fjord tomorrow.

Friday 6 July 2012 (Glacier Cruising and Viewing):

Today I started my day with a workout in the gym. When I arrived up there and looked out the window boy was I surprised at how bad the weather had become.  I knew we were rolling from taking waves and strong winds on our beam, but by morning the weather had really gotten worse and it looked like a scene from a bad day on "The Deadliest Catch" television show.  Fortunately the ship is not rolling too bad, but I suspect if I were to get onto the bridge I'd find out it has to do with stabilizers being deployed.

Shortly we will attend the cooking demonstration and my wife will continue onto the Galley tour. My daughter and I are planning to go do the back-stage tour of the theater at least that was the plan before bed last night. Things do change.  Later in the day we have an opportunity to bid on and win the nautical chart used for navigation and then show up late for the navigational chat with the third officer from the bridge.

In the Mid-Afternoon hours we will arrive at College Fjord area for more glacier viewing this evening. For those getting off the ship in the morning, that is really a great way to end the cruise. For those of us continuing on, cool…it is a great way to end the day.

Sad to say as we entered Prince William Sound we encountered more rain and some fog. It is hit or miss as we sail along. It makes the viewing of Alaskan scenery a bit tough, but is kind of fun if you like sailing in bad weather some of the time. Occasionally, in a few hundred days at sea you need a cold rainy day to remind you nature always wins. After tons of rain free sunny days sailing in the past few years I am not about to complain about a single rainy day today.
We ended up quite lucky seeing a lot of glaciers and got to go to the far end of the Fjord which was iced in two weeks ago. It was nice viewing that we enjoyed after going to the Nautical Chart Auction where I won the nautical chart. We also managed to get to the Navigation at Sea lecture and stayed after for a while to ask various questions.  After those we retreated to our secret hideaway up on deck 18 to watch the glaciers from the Elite evening event.

The evening was abuzz with activities as those ending their cruise on Saturday morning try to do everything they missed before so they can say they had a good cruise. It is fun to watch the activity and not be part of it for once.

Saturday 7 July 2012 (Whittier, AK and for some disembarkation and embarkation day):

Here we are in another beautiful port of call today.  I wish I could say the weather was cooperating, but that would be a lie. It is fun to watch everyone else get off the ship and not be in a rush. We did hear though the family members driving down from Anchorage got going early so will be here about an hour earlier than expected.

Today we spent most of the day with family and together we visited the Forest Festival in Girdwood, Alaska.  A fun time was had by all in attendance. There were tons of craft tents, but best of all was the black bear sitting in a tree, which was quite a treat and in no way planned by any of the organizers. It was just pure luck the bear was there to watch over us.
Back on the ship we were witness to a different kind of boarding process than we see in the lower 48 or around the world where we have boarded other ships, except for Dubai where it was different.  The passengers check-in to the ship in Anchorage so the luggage comes by truck from Anchorage and passengers arrive via train or bus mostly. Very few if any come by private car. In fact we were able to be dropped right by the front door of the terminal and were then given a short cut thru the line to board the ship once again since we are "In-transit" passengers.

Once we got our selves together we were off to dinner where we stayed thru the new passenger muster drill. We then headed to the $1000 giveaway drawing where collectively we won 3 prizes, in fact all three were for my wife's cabin with none for me. My daughter snagged some internet time which makes her very happy while my wife won an entry to the slots tournament and some free art work.

Bed time rapidly came upon us so another night at sea is upon us. That also means tomorrow is a new bright day at sea, in fact two days at sea in a row touring glaciers etc…

Sunday 8 July 2012 (Glacier Cruising and Viewing):

Today I woke up and decided to take a morning off from working out. I went back to sleep for a couple of extra hours. It is nice to sleep in every once in a while. When I did finally get up, I headed out for some food and attended a talk by one of the ship crew members.  I then headed off to enter the morning show contest and also a contest to win a free shore excursion. It will be fun to win, however if it's free tickets to the lumberjack show that could be tough since we are fishing at that time.

Shortly we will attend the shopping show and likely later the shore excursions show. This is really all about having something to do this morning since later in the day we will arrive at the Hubbard Glacier which is the highlight of the day today.  The Hubbard Glacier was not visited on the way into Whittier so it is the only different place we go South that different from the North bound sailing. Of course we miss College Fjord going South, but who wants to see it at midnight anyhow.

We are now down to guest services to deal with a destroyed shirt my wife sent down for cleaning. That was a long process, but my wife bought the shirt the week we left for the cruise and sent it to be cleaned after wearing it once so she was upset it was destroyed while being pressed. The paperwork is done and she will mail it in once she arrives back to shore.
We attended the port shopping show where I snagged a ball cap from Del Sol, one of our favorite stores for buying souvenirs. I haven't had it in the sun yet to see what color combo I get, but know it will turn neat colors. We also purchased a shopping guide book, which we have not done for quite some time. My wife wanted it because one of the gifts that comes with the book is going to be used as a gift for one of the folks helping care for our house and animals while we are away.

We are now less than two hours out from Hubbard Glacier and are excited about seeing that for the first time in a few years. It will also help all of the passengers who have been subject to the motion of the ocean and not doing so well. I even heard from one performer on the ship today that she was feeling the effects of the ship movement.

The Hubbard Glacier was fantastic to see. It is the largest tidewater glacier in the USA. We were very fortunate to see an incredible amount of calving at the glacier. The best was when a huge chunk probably in excess of 200' tall and who knows how wide and deep fell off in a series of calving events. The best was the last which is on video here. In many hours of viewing glaciers over the past 14 years during several different visits that was the best calving event I've ever seen.

Dinner was great once again. After dinner we watched a matrix artist, who performed acrobatics with a metal matrix cube.  It was a really interesting performance that is a warm up for an hour long performance tomorrow night. I believe it lines up well with a timeline after we are out of the whale feeding area outside of Glacier Bay. We should be able to see his show since it does not appear to have a conflict.

Monday 9 July 2012 (Glacier Cruising and Viewing):

Today I got up and worked out for a while and watched as we sailed into Glacier Bay area. It is nice to sit on a stationary bike and view Alaska while getting the workout at the same time. (Better than the scenery at the gym at home.)  After that workout, a bite of breakfast and some whale viewing from the outer deck.

The whale watching is good this morning with one young male Humpback Whale breaching for the ship. His actions were almost as if he were putting on a show for the ship. After the first pod we hit a dry spell for nearly an hour before coming on a mom with calf and another whale all near one another.  One amazing thing to hear is that the mature adults eat 2000 pounds of food a day. Only a few whales will collectively out eat the ship of hungry passengers.
Today we had a rainy and cold day for viewing the glaciers in the bay. It was still a nice day of watching sea life and the glaciers. I saw one black bear as he or she went back up into the woods. It is always a neat sight to see the natural life going on in the wilderness which is how it worked out today.

We ended the day with shows and movies under the stars and making of plans for tomorrow in Skagway. We have decided to take it easy and forego the rafting trip, but could change our mind if when we arrive it turns out to be nice and sunny instead of nasty like it's this evening.  Who know, the other side of the mountain could be very different than it is here now.

Tuesday 10 July 2012 (Skagway, AK):

Today we arrived early to Skagway.  In fact when I arrived up in the gym at 0630 we were already tied up along the pier and were just awaiting official permission to offload passengers to the shore. Of course with no early excursions planned we were not among those to dash off the ship. We will head off probably a couple hours later into the morning after the rest of the family wakes up and eats breakfast.

I know with the special shopping guide my wife picked up we will be stopping in a few of the shops around town. There are a couple of things I am considering as souvenirs from here as well. We will get it figured out as we walk around the town.

We enjoyed our walk around town shopping and enjoying the quite cold and somewhat rainy weather we encountered. We picked up several souvenirs today knowing that with flight seeing tomorrow and fishing the day after we would be busy. Tomorrow in particular we have a Era Helicopters Glacier landing tour booked and paid. (It is actually my birthday gift from my wife.)

We enjoyed an evening of good views, friendly chat, and great service from the crew in the Elite pre-dinner service lounge on deck 18. It really is very nice to be treated so well before dinner each night.

Wednesday 11 July 2012 (Juneau, AK):

This morning when I got to the gym I found we were already at the dock a bit earlier than expected. After working out, I checked with ERA to confirm our flights for later today and got word we are good to go. I know I am excited and am sure my daughter is as well. Now it is time to get up and get going so we can soon head off to enjoy a bit of time in Juneau before our flight.

The weather today here is not as nice as we would love to see, but it is also not terrible like we had in Glacier Bay a couple days back. As long as we get great weather tomorrow while fishing we will all be happy campers. Of course in Alaska weather can change rapidly, especially along the coast with big mountains around where winds and moisture can create some interesting weather.

Our helicopter flight to and landing on a glacier was really quite a neat experience. We were fortunate to fly with a minimal passenger load so we ended up with everyone having great window views for the flight both out and back. It also did lead to no changing around of passengers from front to back due to weight balancing for the flight. ERA put on a great flight for us.

Tonight is formal night followed by the Captain's Circle welcome back cocktail party. The party is sure to be fun again as it was last week. Due to the party, the Elite lounge is not open tonight. Princess does a good job with the welcome back party. I believe again this week they will hold only one since there are not that many repeat passengers compared to the capacity of the ship.

The evening ended on more of a sour note than positive. As my wife and I were walking to her cabin (we have two cabins for the three of us and I got the solo cabin) we had to pass a cabin attendant who was stacking room service trays on his cart. My wife made it past safely, but one of the plate covers slid off bringing with it a ramekin full of mustard that splattered all over my hand and wrist as well as arm of the suit jacket and the suit pants. My shoe got hit as well. The attendant apologized and wiped it off suggesting the laundry could care for it tomorrow, which was not soon enough for me. Ultimately we got the housekeeping supervisor for this area of the ship involved, who recognized the need for immediate cleaning so he took it straight away to the laundry area for treating and cleaning tonight.

Thursday 12 July 2012 (Ketchikan, AK):

This is our big fishing day. We are scheduled to make a six hour fishing trip to catch both halibut and salmon. Thus, we were up and ready to be among the first off the ship. It has been a long time, and many cruises since I was among the first off the ship at any port of call.
We managed good time and were on the fishing grounds when expected. We, due to late in the morning ship arrival didn't get to fish at the absolute prime fishing time but that was ok, we were fishing and I was first up on the rods when one hooked a fish. I pulled in an average size Pink Salmon. Later I pulled in a huge (especially this time of year) Silver Salmon which was really a nice way to kick off the morning.  We were first fishing for Salmon and then later in the early afternoon when to catch some Halibut. We did well on the Halibut and bottom feeders getting 2 nice halibut, 3 rock fish, and 2 turbid (spelling?) which both became bait for more bottom fishing.

Everyone agreed it was the best excursion they have had on the cruise. I was glad it worked out so well since fishing is always a gamble and can easily become the big downer when no fish are biting. In the end both my daughter and her friend who had her family with our charter had a blast. Her friend caught her first fish after being very shy about fishing at first. For me I caught my largest fish on this trip. (Sharks excluded.)  My daughter caught a bunch of fish as well, so she is now all excited about fishing and ready to go again. I suppose we will do a day trip out into the Gulf of Mexico later this Summer if time allows.

When we came back to the ship we cleaned up and enjoyed one of the last couple nights in the Elite lounge. We eventually went down to dinner where something must have been going on in the galley because our normal fast paced dinner took nearly twice as long as normal tonight which was annoying.  I never did ask what was going on, but since it was the exception to how dining was dismiss it as an oddity.

Back in my cabin I was pleased to see my suit was cleaned well and the mustard stains were out.  I am sure someone in the laundry worked very hard to make it look new again, which I appreciate. I appreciate that the housekeeping supervisor last night saw the need to take it right away and get someone working on the stain before it became a hopeless cause. It saved me and Princess both the headaches of destroyed custom tailored clothing.  The cleaning job not only avoided the mess of filing a claim but cheered me up about the incident since now it is just a past oops.

Friday 13 July 2012 (At Sea):

Today is going to be a lazy day for me. It is a great day to just relax as we sail South towards Vancouver. There are plenty of wildlife viewing opportunities along the shoreline.  I started out by sleeping in, which was really easy to do when we sprung forward an hour overnight. Now it is breakfast time.

I wandered around a bit after having a small breakfast. I will save my appetite for a pub lunch and some form of final dinner aboard this cruise.  Once again we are into the final day doldrums that happen on the last day of every cruise. Of course I already see it in the faces of other cruises as well. For us this is the second go around seeing folks in final day mode as we say it last Friday as we sailed towards College Fjord and then on to Whittier.

Since many of the big events for today are a repeat of last Friday, I suspect we will take a slower more relaxed pace today. There is no need to repeat all of the same activities again. Some will be full of other passengers anyhow leaving more space in other venues for our enjoyment. One event I know my daughter really wants is the Pub Lunch so I suspect we will go enjoy that today.

In the end my daughter changed her mind about much of the day. We spent nice family time relaxing today around the ship. We ditched our primary dinner plans, in part due to a very slow service last night. We were annoyed that it took nearly twice as long last night as the prior six nights dining there.

The scenery along the cruise path has been really nice today. It was a blast to watch the scenery in the warm sun today. We did some of this while enjoying our final night up in the Elite cocktail hour lounge. We got to bid our best wishes to the crew we have gotten to know over the past couple of weeks as well.

Overall it has been another nice day aboard the ship.  Sadly we had to pack all over our stuff, not to put it out ahead, but instead to have ready to carry off on our own tomorrow. If all goes as planned right now we will get off around 9am and be on the second hop on hop off bus around Vancouver leaving the Canada Place area about 30-45 minutes after we get off the ship. I just set my wake up call to make sure we stay on course in the morning.

Saturday 14 July 2012 (Arrive Vancouver):

As the cruise comes to an end we are glad to have the freedom to hop off the ship more or less as we please as long as we get off by the final call. My expectation is we will then check bags at the hotel and head out to take a city tour hopping on and off as we make our way around town.  

The day was incredibly beautiful so touring around was a fun option. We really did get to see quite a bit of Vancouver in the course of the day. We then ended up over at the airport pretty early but that is ok because ultimately we were worn out from 2 weeks of touring and being active. It was a nice break to sit and relax, if you can call it relaxing to wait for the plane to load up and head out.

Our flight was due to be 4 hours runway to runway and we left late making it a late arrival. This means we arrived behind a few flights from South America and one from Africa leaving us at the end of Immigration and Customs. That was too bad because I hoped to get home in a reasonable amount of time.

We are glad to have had a nice cruise and look forward to exploring Vancouver today. Of course most of all we really look forward to getting on back home to our animals who we know from experience will be super glad to see us arrive back home as well.

Final Summary:

We were so glad to have come back to Alaska via cruise ship on a two week round trip cruise from Vancouver.  We were fortunate to get a great room at the Pan Pacific above Canada Place and will stay there again when we need to stay in Vancouver in the future.  We will continue to cruise Princess when the itinerary fits our cruise needs and desires as Princess does a great job caring for the passengers and delivering a good cruise product.
Extra Documents & Pictures
Link to our Pinterest Board from this cruise.