South America
There are many ports in South America where cruise ships stop for folks to visit the ports. Many of these ports are incredibly beautiful with lots of history. Based on our experience the folks at the ports are very friendly.
For your discounted Passport and Visa services be sure to enter our account number 45541 in the box on the upper right side of the first screen. This will help save you some money.

Certifications: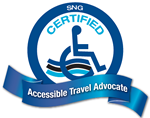 Avalon Waterways - Specialist
Azamara Club Cruises - Five Star Agent
Bermuda Board of Tourism - Bermuda Specialist
Carnival - Bachelors of Fun
Cayman Islands - Dive & Nature Master Specialist
Cayman Islands - Master Specialist Family Travel
Celebrity - Five Star Agent
Costa - Training Academy Graduate
Cunard - Commodore
InnerSea Discoveries - Adventurist
Norwegian Cruise Line - Freestyle Certified
Oceania Cruise Specilist
Princess - Commodore
Regent Seven Seas Univerity Graduate
Saint Lucia Specialist Graduate
SNG Certified Accessible Travel Advocate TM
South American Home ports and Destinations
South America is a great part of the world to visit. It is rapidly developing (the major cities) and offers much for visitors to see and do. There are distinct differences in culture among the various countries on the continent. Some of the countries are very wealthy while others are poor, just like thru the rest of the world.
If you like adventure and natural beauty, South America is definitely worth putting on your bucket list. With the ancient civilization sites in Peru, the Galapagos Islands in Ecuador, and the Straights of Magellan there is something unique to see around the continent.
When sailing out of South America it is generally a good idea to fly in at least one day ahead to ensure you get to the port on time. Also, often flight schedules make same day arrivals nearly impossible anyhow.
Brazil
Argentina
Chile
Cartenga, Columbia
Cruise Lines Sailing from South America