Florida
Florida is home to tons of cruise ships. Further it's one of the top tourist destinations in the USA year after year.
For your discounted Passport and Visa services be sure to enter our account number 45541 in the box on the upper right side of the first screen. This will help save you some money.

Certifications: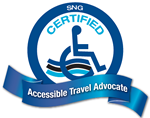 Avalon Waterways - Specialist
Azamara Club Cruises - Five Star Agent
Bermuda Board of Tourism - Bermuda Specialist
Carnival - Bachelors of Fun
Cayman Islands - Dive & Nature Master Specialist
Cayman Islands - Master Specialist Family Travel
Celebrity - Five Star Agent
Costa - Training Academy Graduate
Cunard - Commodore
InnerSea Discoveries - Adventurist
Norwegian Cruise Line - Freestyle Certified
Oceania Cruise Specilist
Princess - Commodore
Regent Seven Seas Univerity Graduate
Saint Lucia Specialist Graduate
SNG Certified Accessible Travel Advocate TM
Florida for Ships and Vacation
Florida the Cruise Home Port
Florida is a home port to numerous cruise ports. There are several places ships sail each week including Tampa, Jacksonville, Port Canaveral, Port Everglades, and Miami.
All of these ports are well equipped to handle cruise passengers. Most are relatively close to airports allowing for each access to cruises for those flying in/out for their cruise. It's always a good idea though, to get to the cruise a day ahead to avoid disappointment of air related issued causing you to miss your cruise.
Florida the Destination
Florida has for years been a popular destination for those looking for a vacation. With miles of beautiful beaches, great scuba diving, plenty of golf courses, and the amusement park mecca Orlando, there is something to cover about anyone in your family in Florida. Because Florida is filled with tons of activities, those cruising in/out of Florida have numerous opportunities to expand their vacation to include both land and sea components.
For those who love fresh citrus head to Florida where you can find farms that allow you (for a fee) to pick your own fresh citrus. If you want to stay in Florida for a long time you can even enrolls in one of several really good universities there.
Ships Sailing from Florida
Many cruise lines sail from Florida either full time or part time.
Here is a list of cruise lines that often are found sailing from Florida.