Ft. Lauderdale (Port Everglades)
Port Everglades is the official port housed in Ft. Lauderdale. This is one of the top cruise ports in the world for home-porting ships and is home to the largest two cruise ships currently sailing.
For your discounted Passport and Visa services be sure to enter our account number 45541 in the box on the upper right side of the first screen. This will help save you some money.

Certifications: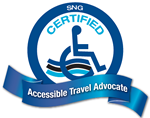 Avalon Waterways - Specialist
Azamara Club Cruises - Five Star Agent
Bermuda Board of Tourism - Bermuda Specialist
Carnival - Bachelors of Fun
Cayman Islands - Dive & Nature Master Specialist
Cayman Islands - Master Specialist Family Travel
Celebrity - Five Star Agent
Costa - Training Academy Graduate
Cunard - Commodore
InnerSea Discoveries - Adventurist
Norwegian Cruise Line - Freestyle Certified
Oceania Cruise Specilist
Princess - Commodore
Regent Seven Seas Univerity Graduate
Saint Lucia Specialist Graduate
SNG Certified Accessible Travel Advocate TM
Ft. Lauderdale as a Home Port and Destination
Ft. Lauderdale Home Port
Port Everglades is located on the opposite side of Interstate 95 from the Airport. This makes it one of the most convenient ports from which to sail for those flying in. It is a 45 minute drive from the Miami International airport which has far more flights. Between these two and even West Palm Beach airport you have many choices for flying in/out to/from your cruise. That makes your trip a bit easier.
Port Everglades is the worlds largest cruise port with some weekends seeing as many as 50,000+ cruise passengers between Saturday and Sunday cruises. The port tends to handle the situation relatively well. Part of it being that the various cruise terminals are not one right next to the other so they have some room to spread everyone out.
Ft. Lauderdale as a Destination
There is plenty to do in Southeast Florida. First, for those willing to put in a few hours on the road, you can easily get to Orlando one of the world's top tourist destinations. But for those who want to stay close to the port there are plenty of water based and land based activities in and around Ft. Lauderdale. There is also great Caribbean and Cuban food in the area. It is worth spending a day or two before and/or after the cruise enjoying your time in the area. You can even just enjoy the beach around this area.
For Scuba divers there are plenty of dive operators and dive sites along the coast all the way down the Florida Keys. Sailing is another popular activity in the area. If you have a few days we are happy to help you plan a great getaway to Southeast Florida for your pre/post cruise time.
Ships and Lines Sailing from Port Everglades