Houston, Texas
Houston is the 4th largest city in the USA, and home to one of the busiest ports in the USA as well as world wide. It is home to a Cruise Port and many other activites for before or after the cruise.
For your discounted Passport and Visa services be sure to enter our account number 45541 in the box on the upper right side of the first screen. This will help save you some money.

Certifications: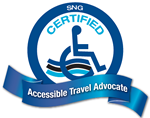 Avalon Waterways - Specialist
Azamara Club Cruises - Five Star Agent
Bermuda Board of Tourism - Bermuda Specialist
Carnival - Bachelors of Fun
Cayman Islands - Dive & Nature Master Specialist
Cayman Islands - Master Specialist Family Travel
Celebrity - Five Star Agent
Costa - Training Academy Graduate
Cunard - Commodore
InnerSea Discoveries - Adventurist
Norwegian Cruise Line - Freestyle Certified
Oceania Cruise Specilist
Princess - Commodore
Regent Seven Seas Univerity Graduate
Saint Lucia Specialist Graduate
SNG Certified Accessible Travel Advocate TM
Houston as Home Port and Destination
Destination Houston
Houston is a world class destination with fine arts, top medical facilities, beaches nearby, water sports in and around Houston and much more. With 2 busy airports getting to Houston is simple. If you have your own plane there are many airports from which to choose.
Houston is recognized around the world for the dining options here. One of our personal favourites is Samba Grille in downtown Houston. There are plenty of Mexican dining venues as well as all other flavors you may want from unique African to mainstream American it is all available in Houston.
Lodging is readily available in all parts of Houston. It is usually wise to pick a place to stay near to where you hope to spend you time as traffic at rush hour especially can lead to long travel times between places.
Cruise in late February and early March and you can enjoy the Houston Livestock Show and Rodeo which is a spectacular event and draws over 13,000 volunteers to put on the event each year. The primary purpose is to raise money for education at all levels. The show awards tons of college scholarships each year to deserving students.
On the way to the Port a short sidetrack from IH-45 will take you to "Houston Center" where the space program is controlled. Space Center Houston offers visitors a lot of educational experience
Home Port Houston
Presently the Bayport based Houston Cruise Terminal is built and ready for occupancy however no cruise lines are using the facility. The terminal was built right as the exodus of ships from the Texas coast occurred as ships moved to Europe and other hot home ports. We are now seeing more ships sail from Texas so it is not unreasonable to think soon a ship will be sailing out of the Bayport terminal.
Ships Sailing from Houston
Presently no ships are sailing from the Port of Houston. Instead See Port of Galveston